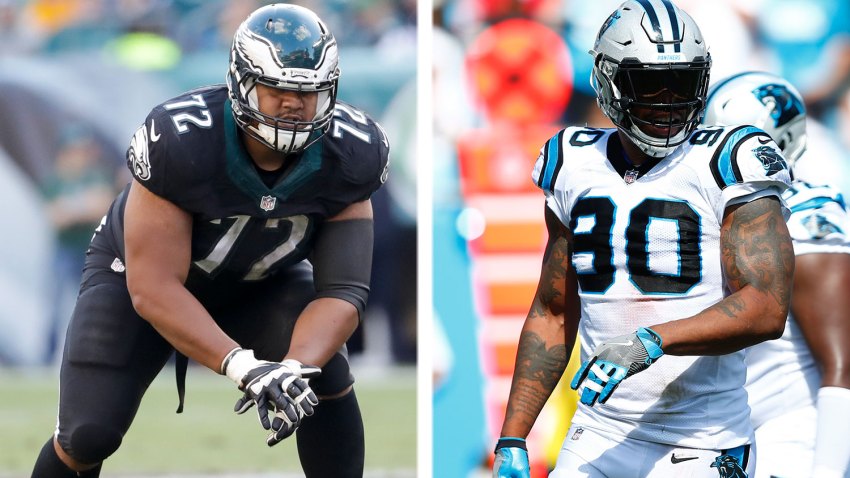 There are just three 4-1 teams left in the NFC and two of them will face off at Bank of America Stadium on Thursday night.
Most of the Thursday night games don't usually generate a great product, but things could be different this week.
Philadelphia Eagles
Complete coverage of the Philadelphia Eagles and their NFL rivals from NBC Sports Philadelphia.
The last time these two teams faced off was in 2015, also in Charlotte. The Panthers won that one 27-16.
After the Panthers went 6-10 last year and the Eagles went 7-9, when the schedule came out, this Thursday night game didn't have a ton of buzz. But five weeks into the season, it's shaping up to be a matchup of two tops teams in the conference.
Here are five matchups to watch:
Christian McCaffrey vs. Nigel Bradham
How do the Panthers use McCaffrey?
"A lot of different ways," defensive coordinator Jim Schwartz said. He then said it's kind of like how the Eagles used Darren Sproles. McCaffrey is a running back by title but his real value to the Panthers is his ability to morph into a receiver out of the backfield.
So far this season, McCaffrey has 27 catches for 237 yards and a touchdown. Bradham will end up on McCaffrey a ton Thursday but he won't be alone. At times, Jordan Hicks and Mychal Kendricks might get turns. Same too for Patrick Robinson if the Panthers move McCaffrey into the slot. The Panthers are still figuring out how to use their eighth overall pick, but they're getting there.
Halapoulivaati Vaitai vs. Julius Peppers
"Big V" is in this week for Lane Johnson, who suffered a concussion Sunday. Vaitai has looked much better - Frank Reich said he looks more "aggressive" - this season, but he hasn't gotten to play the regular tackle position yet. He'll get an entire game Thursday. Remember, since the start of last season, the Eagles are 9-2 with Lane Johnson and 2-8 without him.
While Vaitai will start the game facing off against Mario Addison, I'd expect to see the Panthers push to get Peppers against him at times. Peppers leads the Panthers with 5½ sacks. The 37-year-old is defying time since rejoining the Panthers this season. With 149 sacks, Peppers is the active career leader and is fifth all time.
Zach Ertz vs. Panthers linebackers
Ertz has been the most productive tight end in the league over the first five games of the season. Sure, you can argue if he's been the best, but you can't argue whether or not he's been the most productive. Ertz has 32 catches for 387 yards and two touchdowns, on pace to shatter his career highs.
This week, however, will be tough. The Panthers have the best linebacker duo in the league with Luke Kuechly and Thomas Davis. There's a reason the Panthers have given up just 17 catches for 188 yards against opposing tight ends so far this season.
Kelvin Benjamin vs. Jalen Mills
The Panthers have two receivers who are at least 6-foot-4 in Benjamin and Devin Funchess. Benjamin is 6-5, so when Mills is on him, he'll have a five-inch advantage. Rasul Douglas on the other side of the ball is at least a little longer.
The good news for the Eagles' corners is neither of these guys is as fast as the guys they faced last week, but they are big. The Eagles' corners are aggressive and against bigger targets, they'll have to make sure they don't get called for interference.
Cam Newton vs. Eagles' defense
It takes an entire defense to stop Newton. His ability to extend plays can be a killer, so both the front four and the secondary need to work together to thwart him. First, the D-line needs to sack him when they get their hands on him. Second, the corners have to have tight coverage to make him hold the ball.
Fletcher Cox stopped short of calling Newton the hardest quarterback in the NFL to bring down; he gave that honor to Ben Roethlisberger. But Newton is close.
The thing that makes Newton special is that ability to buy time in the pocket. In that sense, he's like a much more accomplished Carson Wentz. Newton hasn't taken off running a ton this season but he's still dangerous there. The Eagles' linebackers will need to keep an eye on him.
After a rough start to his season, Newton is again starting to look like the guy who won an MVP award a couple years ago.
Copyright CSNPhily