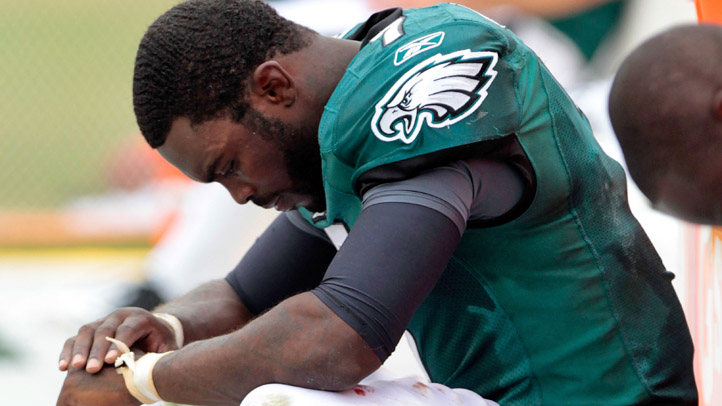 For the second-straight week Michael Vick didn't finish what he started for the Eagles.
This time he left the field to get his right (non-throwing) hand X-rayed after a field goal drive late in the third quarter of the Eagles 29-16 loss. He appeared to hurt his hand after Giants DT Chris Canty knocked him down during a pass to Jeremy Maclin.
"It was just an unfortunate situation," Vick said. "After such a great play, I felt like I got hit late -- there was no flag -- I broke my hand."
Vick, while frustrated, says he doesn't blame the refs but says that he feels more precautions should be taken to protect him in the pocket.
He also said he doesn't get the same protective calls other QBs get.
Vick would come back and lead the Eagles on their next drive but after the Giants scored to make it 22-16, it was announced that Vick had a broken hand and wouldn't return. He wound up posting a 73.8 passer rating while throwing 176 yards, no TDs and an interception (in the red zone).
After the game coach Andy Reid said Vick would get an MRI Monday to see how bad the fracture in his non-throwing hand is.
Mike Kafka again came in from the bullpen. But unlike last week, Kafka wasn't immediately sharp, throwing an interception on his first pass. He would go on to throw another pick on his way to a 4 for 7, 35-yard relief performance.
Kafka took some first-team snaps in practice this week because Vick's status for the Giants game was uncertain after he suffered a concussion last week. But by Thursday Vick was back in pads and back at practice pushing Kafka back to No. 2.
It's unclear how long Vick will be out this time and if he could miss the 49ers game next week or if he will try to play with the broken hand.
Vick wasn't the only Bird to go down to injury. Two of his top weapons were also hurt. Riley Cooper was out with a concussion and top wideout Jeremy Maclin was doubtful after hurting his hamstring. And Cb Brandon Hughes also hurt his hamstring.