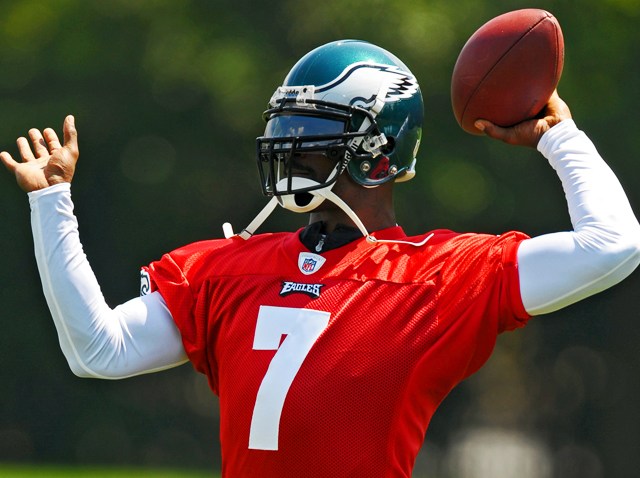 Eagles training camp opens to the public Saturday, and fans can't wait to get to Lehigh quick enough after anxiously awaiting the opportunity to see their favorite Birds in action.
The preseason practice schedule is now available on the Eagles' website.
Make sure to arrive early to see you favorite players work out in the morning -- due to new NFL rules, afternoon practices will often lighter.
If you want to grab a bite later in the day, why not check out some of Bethlehem's most preferred restaurants?
Below are the dates and times when the Eagles will practice at Lehigh University -- here are directions -- along with the players participating in the day's autograph sessions listed in italics. Autographs take place after the morning practice.
Saturday, Jul. 30 – 8:05 a.m. – 2:45 p.m. (Walk Through) - LBs and TEs
Sunday, Jul. 31 – 8:05 a.m. – 2:00 p.m. (Walk Through) - RBs
Monday, Aug. 1 – 8:05 a.m. – 2:45 p.m. (Walk Through) - OL
Tuesday, Aug. 2 – No Training Camp Practice - Players Day Off
Wednesday, Aug. 3 – 8:05 a.m. – 2:00 p.m. (Walk Through) - QBs and DBs
Thursday, Aug. 4 – 8:05 a.m. – 2:45 p.m. (Walk Through) - DL
Friday, Aug. 5 – 8:05 a.m. – 2:00 p.m. (Walk Through) - WRs and ST
Saturday, Aug. 6 – 8:05 a.m. – 2:45 p.m. (Walk Through) - OL
Sunday, Aug. 7 – 8:05 a.m. – 2:00 p.m. (Walk Through) - QBs and DBs
Monday, Aug. 8 – 8:05 a.m. – 2:45 p.m. (Walk Through) - LBs and TEs
Tuesday, Aug. 9 – No Training Camp Practice - Players Day Off
Wednesday, Aug. 10 – Mock Game - Closed To Public
Thursday, Aug. 11 – No Training Camp Practice - Preseason Game vs. Baltimore Ravens
Friday, August 12 – No Training Camp Practice - Players Day Off
Saturday, Aug. 13 – 8:05 a.m. – 2:00 p.m. (Walk Through) - RBs, WRs, and ST
Sunday, Aug. 14 – 8:05 a.m. – 2:45 p.m. (Walk Through) - DL
Monday, Aug. 15 – 8:05 a.m. – 2:00 p.m. (Walk Through)
Tuesday, Aug. 16 – 8:05 a.m. – 2:45 p.m. (Walk Through)