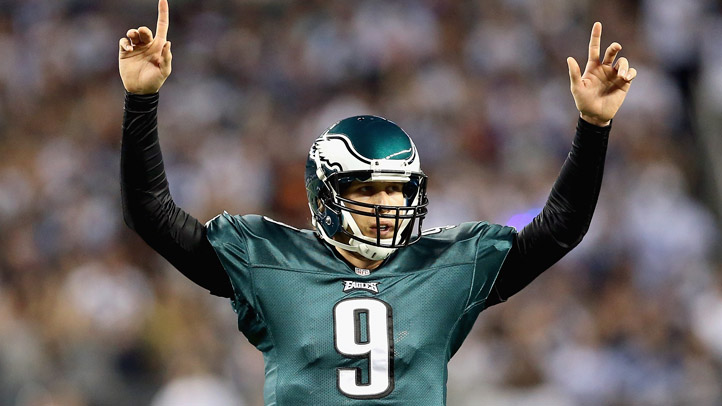 The Eagles lost, again. They blew coverages, again. They gave up turnovers, again. They fired a coach, again. And yet, Sunday night in Dallas could have been much worse: the Eagles could have won.
Exactly a year ago, this team was in a similar place. At 4-8, their future was bleak. We started looking toward 2013, anticipating the changes in the offseason. But it wasn't to be. The Eagles rattled off four "fool's gold" wins to end the season at 8-8. They didn't fire Andy Reid, or get started on the much-needed reboot. They didn't have a shot at getting a once-in-a-decade talent like Robert Griffin III.
I hate the Cowboys as much as the next guy, and these losses are painful. But let me tell you, it's better this way. There's nothing to be gained by winning any more, only by losing.
The important thing is evaluating players for 2013 and beyond. And to that end, we're learning a lot:
Nick Foles had by far his best game so far. He made a few questionable throws, but was light years better than last week, when it looked like he desperately wanted to give the ball away. Foles made some tough, accurate throws (especially to Riley Cooper in the end zone) and withstood pressure in his face a few times. These are the types of performances he's going to need to have if he wants to audition for the starting job in 2013.
Speaking of Cooper, he seems to be everywhere these days. A safety blanket for Foles, Cooper's size makes him a real asset in the end zone. He's also a willing and able blocker (although asking him to match up with DeMarcus Ware is probably too much).
The Bryce Brown show continued. In two weeks as the starter, Brown has totaled 347 rushing yards. His size, power, and vision are incredible. If you calculate his "Speed Score", he ranks either near the top of all running backs drafted in 2012 or near the top of all running backs, period (depending on whether you use official pro day 40 time of 4.48 or some reports of 4.37). Sure, there's a major fumbling issue. But that's not something to worry about now. Brown is already producing at a level we never could have imagined. Figure out the details in the offseason.
Another positive development, I think, is the Eagles offensive line. King Dunlap was overmatched on the left side, which surprised exactly no one. But the Jake Scott signing has paid off immensely, as has Dennis Kelly getting more reps at his natural position of right tackle. The communication issues on that side of the line seemed to be almost entirely eliminated this week, and the duo actually coordinated some brutally effective blocks to spring Brown free.
Of course, what does that say about Danny Watkins? Nothing good, I'm afraid.
In other news, the defense is still awful. I don't understand how promoting Todd Bowles, whose coverage schemes were one of the only things working early in the season, could have backfired this spectacularly. It's stunning. You know it's bad when we're apologizing to Juan Castillo.
Also, RIP Wide 9. We won't miss you much. Except for Brandon Graham 2.0. You can stay.