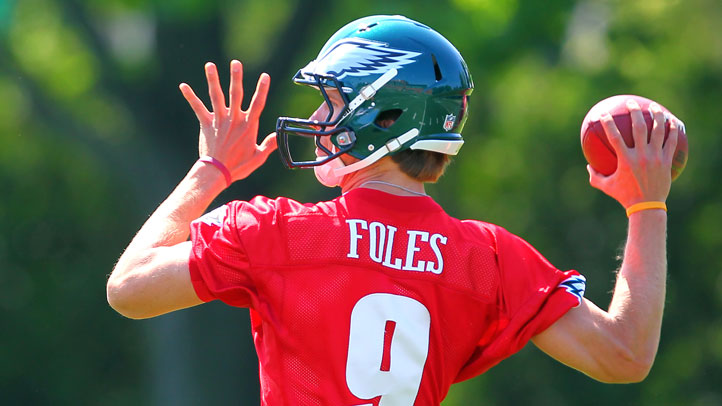 Michael Vick is the most important player on the Eagles' roster.
This isn't news but it's worth pointing as Philly prepares for its Week 2 preseason game against the Patriots on Monday night (and more importantly: it's regular-season opener in three weeks). As we saw against the Steelers last Thursday, the Eagles are just a freak injury -- like hitting your thumb against your center's helmet -- away from relying on some combination of Mike Kafka, rookie Nick Foles and journeyman Trent Edwards to run the offense if, god forbid, Vick gets hurt.
The problem: Kafka, who didn't look particularly sharp against Pittsburgh, broke his non-throwing hand and could be sidelined for the rest of the preseason. He was penciled in as Vick's backup and when he's healthy it sounds like he'll resume that role.
"He's a talented, young, sharp, really sharp player," offensive coordinator Marty Mornhinweg said according to PhillyBurbs.com. "I've certainly got great confidence in Mike in the (No. 2) role that he's in at this point."
But Kafka, a 2010 fourth-rounder out of Northwestern has just 16 career attempts during the regular season, including two interceptions. So while Mornhinweg has been impressed with the third-year player, his role behind Vick isn't written in stone.
In April, the Eagles used a third-round pick on Arizona quarterback Foles and he came into camp with a reputation for a strong arm, a quick release and good accuracy, all of which were on display against the Steelers. He also showed deft touch on long balls, throwing for touchdowns on back-to-back possessions, the first a 70-yarder to Damaris Johnson and then a 43-yard over-the-shoulder grab by Mardy Gilyard.
"[Foles] did just about what I expected him to do, which was to play well," Mornhinweg said earlier in the week. "I know that he has an opportunity to be a heck of a quarterback at some point. He's quite a natural player and he's a quick decision maker. You can see that his accuracy is good and his timing has been good up to this point. He has a lot of work left to do, like we all do."
Words which could be interpreted as: "We like Nick, but we're not yet comfortable enough with where he is to permanently make him Vick's primary backup."

That's fair. Mornhinweg and coach Andy Reid seem happy with Kafka, despite a poor preseason Week 1 outing and the broken hand. Of course, there's still one more name in the mix: 28-year-old Edwards, originally a third-round pick of the Bills, who came out of Stanford with Bill Walsh's endorsement.
Edwards hasn't lived up to those expectations. The Bills released him a month into his fourth season. He caught on with the Jaguars for the rest of the 2010 season but was out of football in 2011. The Eagles signed him earlier this year and he's currently fighting for a roster spot. PhillyBurbs.com's Ed Kracz writes that Edwards is more than just a camp arm. "At this moment, appears to be Vick's backup, and could very well begin the regular season in that role."

While Mornhinweg didn't come out and say it, he sounded pleased with Edwards' effort through two weeks of camp.

"He's a gamer," he said. "He's got great experience. He wouldn't have been in the league this long, he wouldn't have started and done quite well in this league without what you saw that he had in the (game against Pittsburgh). He did exactly what I wanted him to do, with exception of a couple small details."

And that very well may be true. The problem: The Eagles aren't battling for the division or a playoff spot with Edwards under center. This isn't the most pressing issue facing this team, but it's one of those things that can change the dynamics of a season in the time it takes the starter to bang his throwing hand off the center's helmet.

There's plenty of time to sort out the depth chart -- that's what training camp and preseason are for -- but if we've learned anything in recent years it's that quarterbacks are coming out of college running pro-style offenses are more ready than ever to step into starting roles (Andy Dalton and T.J. Yates immediately come to mind). We know what Edwards can do. If we get to the point where the season hangs in the balance and Philly has to turn to one of their backups, why not give Kafka or Foles a chance? Better to go out in a blaze of glory than at the hands of a 1,000 Edwards' check-down passes.