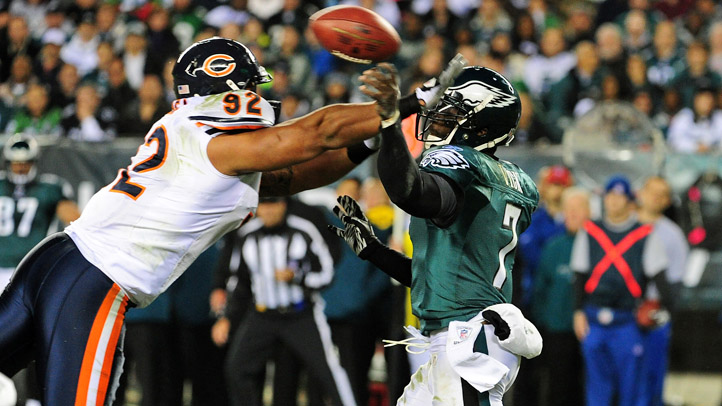 The Eagles continually shot themselves in the foot Monday night as the fell to the Bears 30-24.
The 3-5 Birds allowed an opportunity to move to .500 slip away thanks to some critical penalties including a controversial roughing the passer penalty on Jason Babin after the Eagles defense was pushed into a red zone situation following DeSean Jackson's fumble on a punt return late in the first half.
Then the Eagles had drops including one by Jeremy Maclin after the Bears scored late in the first half to go up 17-10 and by DeSean on the final desperation pass of the night.
The Eagles also failed at a fake fourth quarter punt that was perfectly set up. But rookie punter Chas Henry's throw fell well short of Colt Anderson resulting in a turnover in downs.
And the Eagles defense once again got beaten up late as they allowed 13 unanswered points to end the game.
"You have to learn from your mistakes," coach Andy Reid said post game. "That's all you can do right now. We lost the game, so you can't bring that back. You have to learn from your mistakes and make sure you go out and better yourself."
Bears QB Jay Cutler outplayed Michael Vick. Cutler posted a 96.9 passer rating, two TDs and no interceptions while passing for 208 yards on 18-for-32 passing. Vick posted a 60.5 passer rating, no TDs and an interception while passing for 213 yards on 21-for-38 passing.
The Eagles played from behind various times as they ran the ball only 23 times compared to 39 pass attempts. That mean LeSean McCoy only touched the ball 21 times including five receptions. Shady still managed 117 total yards (71 rushing) and a touchdown.
Bears lauded back Matt Forte put up an impressive 133 yards on 24 carries and added three grabs for 17 more yards. But he also fumbled twice including one that was returned 22 yards for a touchdown by Eagles LB Brian Rolle.
The Eagles defense forced those two fumbles but they failed to sack Cutler and their lauded trio of cornerbacks were beaten numerous times including Asante Samuel allowing the game-winning 5-yard TD pass from Cutler to Earl Bennett.
The Eagles will look to dig themselves out of the big hole they find themselves in next week when the 2-6 Cardinals with Kevin Kolb come to the Linc.