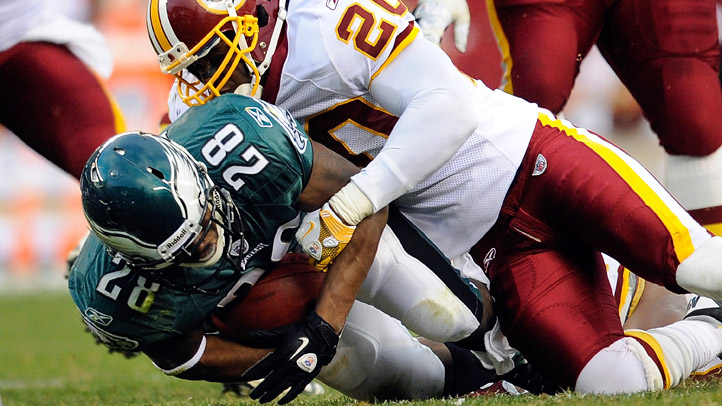 When you looked at the 2011 Eagles roster as a whole, it was plain that the team had enough overall talent to win more than eight games. But over and over again they demonstrated that they were less than the sum of their parts, failing at all the little parts of the game, like tackling and holding on to the ball.
Another one of these factors was kickoff returns. Dion Lewis, the rookie running back who didn't return kicks in college, took nearly all of the Eagles returns. And he was (predictably) dreadful at it.
As you can see above, out of 47 players who returned at least 10 kickoffs, Lewis ranked 43rd. His 21.7 yards per return was 3.3 yards from the median, which cost the Eagles an extra 100 yards (over 30 returns) they surely could have used.
Lewis's longest kickoff return was a mere 33 yards, again 43rd in the NFL. Whatever vision or explosiveness or speed that an kick returner needs to break through for a big gain, he didn't show it last year.
Note: Long returns do skew the average kick return results, obviously. In some ways that's good — achieving that is part of what makes a good returner. However, a returner could be overall below average but have one big return that skews everything upward. For the record, taking out the top return does little to improve Lewis's numbers relative to everyone else.
It's worth pointing out that this isn't a problem solely related to the rookie from Pitt. Lewis is only the latest in a string of poor kick returners, who you can see at right. He was actually better than Jorrick Calvin. Quintin Demps, back in 2008, was the last above-average returner the Eagles employed. It would be nice to see the Eagles try to correct that in 2012, although I won't be holding my breath.