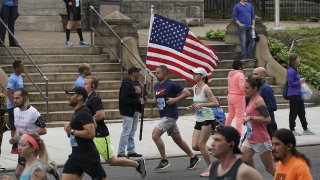 Almost 40,000 people sought the 35,500 spots available in the 2019 Blue Cross Broad Street Run -- and those that won a spot can find out now.
Click here to see if you won the lottery to participate in the Blue Cross Broad Street Run, which is celebrating its 40th anniversary.
This year's 10-mile run down Broad Street from North Philadelphia to the Navy Yard in South Philadelphia will be held on Sunday, May 5. The free Health and Wellness Expo will take place on May 3 and May 4 at the Pennsylvania Convention Center.
NBC10 and Telemundo62 will broadcast the entire race live from start to finish.
You don't need to be a marathoner or an elite sprinter to take part in the race. You just have to be able to complete a sub 15-minute mile, organizers say.
People can register as individuals or as groups of three to five runners, according to organizers.
People who missed out on the race lotto can get a spot by raising (or donating yourself) $500 to five select charities picked by race organizers.
Sports
In partnership with NBC Sports Philadelphia
Anyone who has participated in 10 or more previous Broad Street Runs is guaranteed a spot in the race as a "tenured runner." If they didn't apply during the regular lottery registration period, they should alert race organizers if they don't get in on the first turn, organizers said.
This year, runners may notice a new race logo and website. They will also get a nifty race-branded tech shirt.
The race is one of the largest 10-mile road races in the county. The first Broad Street Run was held in 1980 with 1,500 runners and it has since become one of the city's iconic annual events over its 40 years.
"On this milestone anniversary, we are celebrating not only this iconic world-class race, but also the city of Philadelphia itself, which is a huge part of the overall run experience, beginning with the Expo and leading up to actual race day," Leo Dignan, assistant managing director for the City of Philadelphia Department of Parks and Recreation, said.
The race raises money for the American Cancer Society, having raised more than $5 million since 1982.
Get more information on the run's website.