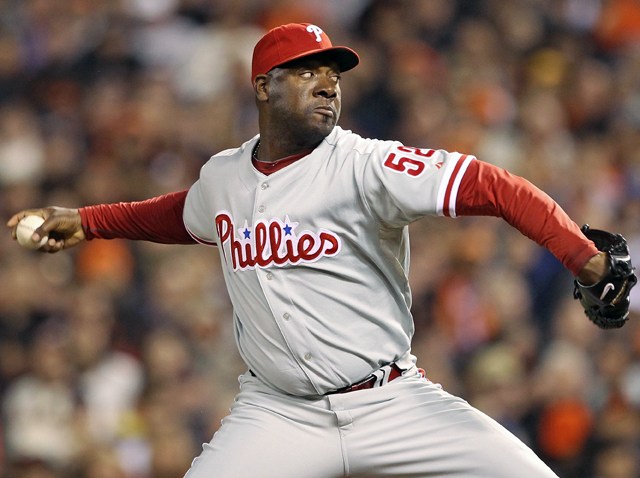 Sometime between news breaking of Cole Hamels being placed on the disabled list and the many East Coasters experiencing their first earthquake, it was announced that Phillies relief pitcher Jose Contreras would have season ending elbow surgery.
Contreras, who pitched in 67 games in 2010, had appeared just 17 times for the Phillies this season, with five saves, 13 strikeouts and a 3.86 ERA in 14 innings pitched. He was placed on the disabled list twice in 2011 for a flexor pronator strain in his throwing elbow. The righty was active on the roster for less than 60 days.
Although the Phillies have been without the Big Truck for the majority of the season, the question of the bullpen lineup looms as the team continues to march their way towards the playoffs.
The Phillies bullpen currently plays host to Antonio Bastardo, David Herndon, Brad Lidge, Ryan Madson, Michael Schwimer, Mike Stutes and on-again, off-again spot starter Kyle Kendrick. Drew Carpenter, Justin De Fratus, Scott Mathieson, Drew Naylor, Juan Perez and Mike Zagurski are also on the 40-man roster wrapping up their season with Triple-A affiliate Lehigh Valley IronPigs. Vance Worley should also likely move to the bullpen once the playoffs begin to provide some long relief alongside Kendrick. Joe Blanton hopes to return to the team (and bullpen) in September as well but his status remains uncertain to say the least.
The Phightins' current crop of relief pitchers boast a combined ERA of 2.98 in 92 innings pitched. Philadelphia's bullpen overall season's ERA is tenth in baseball at 3.45. Of all 30 MLB teams, the Phillies pen has been called on the least, having pitched in just 111 games. They have pitched the fewest innings in the National League at 313 2/3 -- third fewest in the Majors.
Bastardo, Lidge, Madson and Kendrick all have experience pitching in the postseason, and others have been on the expanded roster to be able to watch the biggest games of the year from either the dugout our bullpen, but for the vast majority of Phillies pitchers, most will get their first taste of October baseball in just a few short weeks.
In 2011, the Phillies have used a total of four closers, each one having picked up the slack for another's ailments and injuries. Contreras and Madson began the season competing for the closer's role due to Lidge recovering from shoulder troubles. Once Contreras was placed on the disabled list in late April, Madson assumed the position. Madson has an ERA of 3.25 in 44 1/3 innings pitched and has converted all but two saves in 25 opportunities.
Bastardo took over the closing duties when Madson spent a brief time on the disabled list himself for a bruised right hand. There have been times throughout the 2011 season in which Bastardo has been virtually unhittable. Having pitched 48 2/3 innings, Bastardo boasts a miniscule 1.48 ERA and has converted eight of nine save opportunities. To put into perspective how key he has been to the Phillies bullpen this year, Bastardo has appeared in 52 games so far in 2011 -- in 2010 he pitched in 25 games with a 4.34 ERA.
Lidge returned from injury on July 22 and has been weaning his way back just a little bit at a time. He has appeared in 11 games and has one save in eight innings pitched with a 2.25 ERA. He is still fine-tuning his control, as he has walked seven batters, but has not allowed any triples or home runs, and just two doubles. Although he is the epitome of why statistical analysts are hesitant to make hypotheses based off of small sample sizes, the Phillies are more than likely not going to be looking at Lidge to carry the team in the postseason as they had in the past as Madson and Bastardo have proven how capable they are to shut down the opposition when needed.
The bullpen could be almost as crowded as the dugout come September when the rosters expand, but if history is any indicator (as it usually is), the Phillies will have approximately six to seven relief pitchers per playoff series roster. With Madson, Lidge, Bastardo, Kendrick and Worley all a likely shoe in, Mike Stutes may be the wildcard should Charlie Manuel decide to bring Blanton along for the ride.
Stutes has appeared in 44 games for the Phillies this season with a 3.33 ERA over 46 innings pitched. Posting an ERA of 2.45 in 29 1/3 pitched with 30 strikeouts between April 25 and July 8, he has an ERA of 4.86 since July 8 in 16 2/3 innings. Opponents are batting .242 against him as compared to .170 just over a month ago. (Note: these figures do not include his stats from Tuesday's game, in which he allowed three runs on four hits over two innings.)
Perhaps if Contreras had remained healthy this season, the coaching staff wouldn't have to wonder how Stutes -- a rookie -- would fair in a postseason environment when he has already started a backwards slide nearing the end of the season. Perhaps it's just a little fatigue, but when the Phillies could have as many as 56 games remaining until the World Series winner has been decided, now may be the only chance Stutes has to let things slide a bit. If he isn't back to his A-game soon, the Phightins may be forced to go another route come Oct. 16 when the MLB Divisional Series kicks off that hopefully does not backfire.