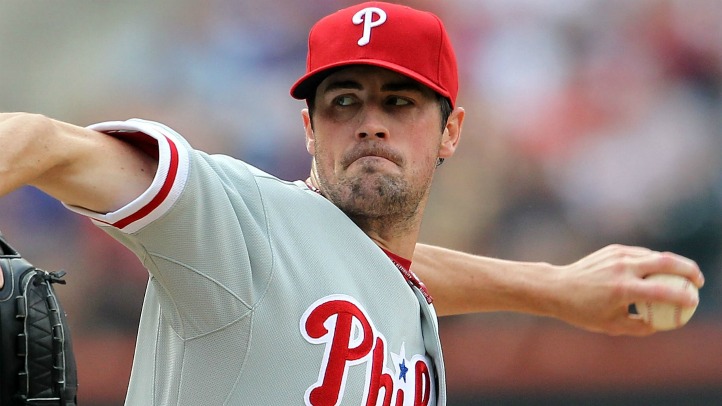 The speed of a fastball is one of the first things we notice about just about every pitcher who takes the mound.
It's impossible not to be impressed when you see someone dial up a fastball in the upper 90's and wonder how in the world anybody finds a way to hit something moving that fast. It's also very easy to misunderstand the value of such a fastball.
A fastball that moves incredibly fast and incredibly straight isn't nearly as useful as it looks from the stands. Major league hitters can figure out such pitches and send them back toward the mound as quickly as they came in. A slightly slower fastball that has some movement is much more valuable, something Cole Hamels taught us in Milwaukee on Thursday night.
Since coming back from his shoulder injury in August, Hamels has looked like a different pitcher. His pitches don't have the same zip and his fastball is sitting in the high 80's, down about five miles an hour from where he was before running into that shoulder trouble. His other pitches are also slower, something that would seem to be a red flag for a guy dealing with an injury.
The results eliminate most of that concern. Hamels did a masterful job of spotting his pitches on Thursday and an equally good job of using the full complement of his offerings to keep hitters guessing about which pitch he would throw and where he planned to throw it. That resulted in more batted balls than Hamels usually allows -- he only had two strikeouts while going the distance in the 7-2 victory -- but they weren't hit particularly well thanks to how uncomfortable he was making hitters.
Hamels' season has been lost a bit because of how well Roy Halladay and Cliff Lee have done. That's a shame, because Hamels is turning in the best year of his career and continuing to mature into one of the best pitchers in all of baseball. He's got the best strikeout-to-walk ratio of his career, he's walking fewer batters and his FIP (Fielding Independent Pitching) is nearly a run better than his previous best.
He did that with a powerful fastball earlier in the season and he's doing it now with a slightly different approach. Taken together, we can only conclude that Hamels has figured out a way to succeed with whichever tools he has at his disposal on a given night. That's a nice place for a pitcher to be when he's just entering his prime.
Copyright FREEL - NBC Local Media