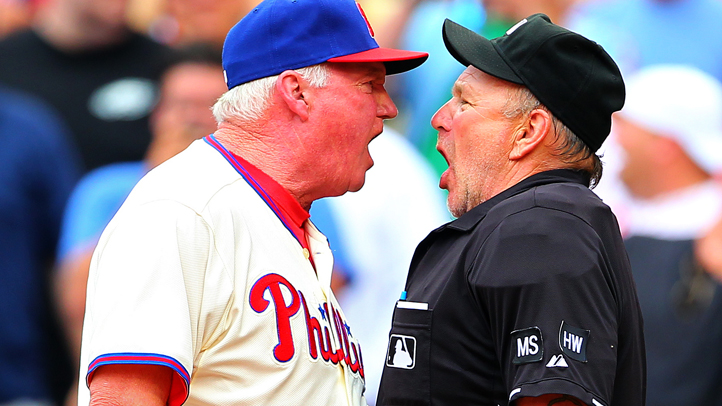 On Tuesday, Charlie Manuel had a little run-in with umpire Bob Davidson on the field that featured a swear word or two. Both Cholly and Davidson have been suspended one game for their on-field actions.
The incident, which took place in the eighth inning, featured Manuel yelling at Davidson when he thought that the ump blocked Brian Schneider from getting a wild pitch, Manuel getting ejected before he left the dugout, and then Manuel and Davidson going b-a-n-a-n-a-s on the diamond. It went viral, courtesy of Deadspin.
And it ultimately led to the suspension, along with Davidson's "repeated violations."
"Umpire Bob Davidson suspended 1 game for his repeated violations of the Office of the Commissioner's standards for situation handling," MLB announced via Twitter.
The news of Davidson's suspension led corporate brother from another mother Craig Calcaterra to shout "BRAVO!" in a headline over at Hardball Talk before citing the numerous instances with Davidson not exactly acting doing his best to calm down situations on the field.
"In case you haven't guessed, I am pleased at the suspension," Calcaterra wrote. "I am even more pleased at the fact that MLB has announced this discipline to the world rather than keep it quiet. The best way to improve officiating is to impose such discipline and to do so in a transparent manner."
Of course, things changed a bit when MLB also announced that Cholly was getting booted for a game too.
"Phillies manager Charlie Manuel suspended 1 game for on-field incident in 8th inning of Tuesday's game vs. Astros," MLB announced shortly thereafter.
See, this doesn't make sense: if Charlie's going to get one game for the eighth inning alone, how can Davidson get just one game for "repeated violations"? It's nice that MLB is being transparent, but they're clearly not being fair if they're handing out the same punishment for different offenses.