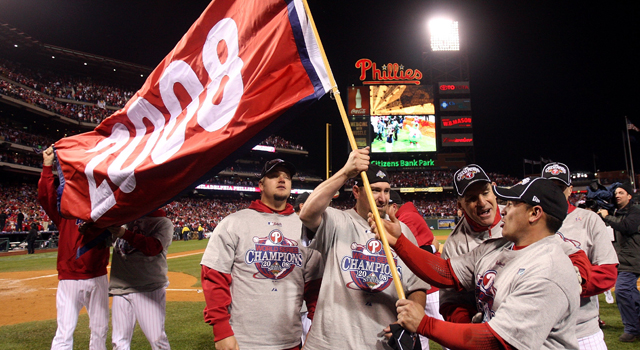 PHILADELPHIA (AP) -- While delirious fans celebrated the city's first major sports championship in a quarter century, postseason hero Cole Hamels was looking ahead. "One thing I can't wait to do is go down Broad Street for that parade again and again and again," Hamels told the crowd at Citizens Bank Park two days after the Philadelphia Phillies won the World Series last October.

Repeat? Three-peat? Can the losingest team in professional sports dare think dynasty?

In a word, yes. These Phillies aren't the same sad-sacks of the past. Those 10,000-plus losses mean nothing to Hamels, Chase Utley, Ryan Howard, Jimmy Rollins and their teammates. They aren't satisfied with winning one title, and certainly don't want to be one-year wonders.

With a nucleus of young players signed to multiyear contracts, the Phillies should be contenders into the next decade. They have a legitimate chance to be the first repeat champions since the New York Yankees won three straight titles from 1998-2000. The Cincinnati Reds were the last NL team to win two in a row in 1975-76.

Right from the start of spring training, manager Charlie Manuel told his players to focus on winning another championship, making it clear that a little swagger is OK but taking it easy is not. "The fact that we won last year, that's behind us now," Manuel said the day pitchers and catchers reported to Clearwater, Fla. "If you're thinking about yesterday, well that means you're not doing nothing now. Our ultimate goal now is to win again. Before, it was to win a World Series. Now, it's to repeat. We've got the talent and I just want to keep the same way of playing, the same attitude and how we go about our business and we'll be OK."

The Phillies basically have the same team that breezed through the postseason to capture the second World Series title in the franchise's 126-year history -- the first came in 1980. They went 11-3 in the playoffs against Milwaukee, the Los Angeles Dodgers and Tampa Bay, losing one road game in each series.

Left fielder Pat Burrell and reserve outfielder So Taguchi are the only two players who didn't return from the 25-man postseason roster. Burrell wasn't offered a contract and Taguchi hardly played. Free-agent addition Raul Ibanez replaces Burrell, giving the Phillies an upgrade defensively and a more consistent hitter.

The pitching staff was the team's strength last year and this group has even more depth. Veteran Chan Ho Park signed a one-year deal in free agency and the former All-Star has a chance to be the No. 5 starter, or play a key role as a reliever. J.C. Romero was suspended the first 50 games for using a banned performance-enhancing substance, so the bullpen will miss its best left-hander. But yesterday, the Phils acquired Jack Taschner from the San Francisco Giants after they traded Ronny Paulino (who was traded to Miami today). And they still have perfect closer Brad Lidge (48-for-48 in save situations last year) and setup man Ryan Madson should hold it down until he returns.

The rotation is set with Hamels, Brett Myers, Joe Blanton, 46-year-old Jamie Moyer and Park or J.A. Happ. There's potential for problems if Hamels' elbow acts up. The ace lefty had minor issues this spring, but expects to be fine. Without Hamels, the NLCS and World Series MVP, the Phillies could be in trouble. "If we play like we can and, of course, you've got to stay free of injuries and it's a long season, but we have a good chance of repeating," Manuel said. "I know how hard it is and I know other teams are going to be gunning for us. I know how good we've got to play and I think they do, too."

Unlike the Rays, Philadelphia didn't come from nowhere to win it all last year.

The Phillies started building a contending team earlier this decade after a long period of futility. Philadelphia had a losing record 13 of 14 seasons between 1987 and 2000. The lone bright spot was in 1993, when they reached the World Series and lost to Toronto on Joe Carter's homer off Mitch Williams.

The organization turned things around by overhauling its minor league system and building through the draft. Many of Philadelphia's star players are homegrown talent. Five regulars on last year's team -- Howard, Utley, Rollins, Burrell and catcher Carlos Ruiz -- were draft choices. So were Hamels, Myers and Madson.

The losing culture that surrounded this franchise began changing when Larry Bowa, a popular shortstop on the 1980 championship team, took over as manager in 2001. He led the Phillies to three winning seasons in four years, but the volatile Bowa couldn't get them over the hump and his irascible personality annoyed some players.

The player-friendly Manuel replaced Bowa in 2005 and Philadelphia came close to reaching the playoffs his first two years only to fall short in the final weekend of the regular season. The Phillies finally snapped a 13-year postseason drought by winning the NL East on the last day in 2007, but were swept by the Colorado Rockies in the first round.

Determined to go deeper in the playoffs, the Phillies needed another late comeback just to get in. They surpassed the New York Mets with seven games remaining, won their second consecutive division title and carried the momentum of a 13-3 finish into October. A city starved for a championship -- the NBA's 76ers won Philadelphia's last in 1983 -- put all its hopes on a team that had let them down so many times in the past. The Phillies embraced their fickle fans and gave them reason to celebrate by outplaying the Rays and overcoming the elements in a soggy series. An estimated 2 million people packed downtown sidewalks to witness the victory parade on Broad Street on Halloween.

It was an overwhelming experience for players and coaches. Now, they're ready for an encore. "It's the hardest thing to repeat, but I think we understand it," Hamels said. "Our goal last year after we got smoked in the postseason, we wanted to go further. Now people write you off as, 'You won it. Nobody repeats.' That's kind of our goal. We want to be the first team to do it in this century."

If the Phillies can win again, it might erase all those years of losing and have a lasting effect on the franchise's identity.
Copyright AP - Associated Press