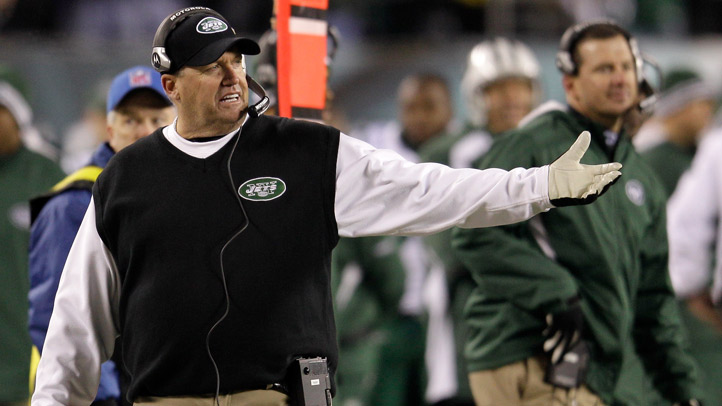 You may be surprised to hear this, but the Eagles are two more solid defensive efforts away from retaining defensive coordinator Juan Castillo. One can see how the notion is going to start gaining momentum.
Since the Eagles left Seattle in disgrace, their defense has played two straight good games, albeit not against world-beaters. Over the final two weeks, they play two teams that they held to a combined 20 points the first time around.
Now you've got a "strong end to the season" storyline that lends to the idea that Castillo just needed time to work things out -- especially with the lockout. Avoiding collapse means the players will rally to this storyline and writers will throw around the fact that Sean McDermott got a second chance.
Inside Novacare, Andy Reid's already on a make-or-break 2012 season, so he might as well go out with his guys. Joe Banner and Howie Roseman will let Reid dig his own grave -- and, voila, Juan, Season 2 is born.
(Just to head everyone off at the pass, this is an awful idea.)
83 Percent = Catch rate by Brent Celek. Celek's 156-yard performance was impressive, even if he couldn't quite punch his 73-yard catch-and-run into the end zone. In fact, it was the most receiving yards for a tight end in Eagles history since "Pistol Pete" Retzlaff in 1965. But even more important was the indication that Celek is really back after dropping passes at a high rate in 2010.
0 = Eagles turnover margin, including the muffed punt. It's amazing how many times these two teams tried to give the game away. The Eagles converted more of them to points, though.
20 Percent = Jets red zone touchdown rate. Winning is easier when you don't allow a touchdown every time the opponent gets inside the 20.
20 = Total all-purpose touchdowns for LeSean McCoy. What a ridiculously fine season for Shady. No one expected this type of historic performance.
3 = More sacks by Jason Babin. Some writers keeping trying to discredit Babin by linking him to the poor run defense. But that's neither fair, nor particularly relevant. Even if he was a big problem against the run (which he's not), 18 sacks evens that out a little bit.