The "Philly Special" is now immortalized in bronze outside the home of the Eagles.
Eagles cheerleaders, mascot Swoop joined the Bud Light town crier (the guy in the funny hat) to unveil the more-than-life-sized statue of quarterback Nick Foles and coach Doug Pederson calling the iconic play from the Eagles' Super Bowl win.
"Do you want Philly Philly?", the date of Super Bowl LII and the Bud Light logo adorn the stone base.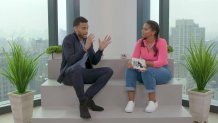 "How beautiful is that?" Eagles Insider Dave Spadaro said after the drape came off the statue.
Eagles fans can check out the statue in the HeadHouse Plaza area of Lincoln Financial Field during the Eagles' season opener Thursday.
It took sculptor Raymond Gibby about four months, using a traditional lost-wax process to construct the 9-foot-tall statue commissioned by Bud Light as part of their "Philly Philly" slogan campaign, spokeswoman Kerry Anna LeMasters said.
Sports
In partnership with NBC Sports Philadelphia
Bud Light plans to leave the statue outside the Linc for years to come, so even if you don't have a ticket to the Eagles opener, you can check it out later.
Copyright CSNPhily