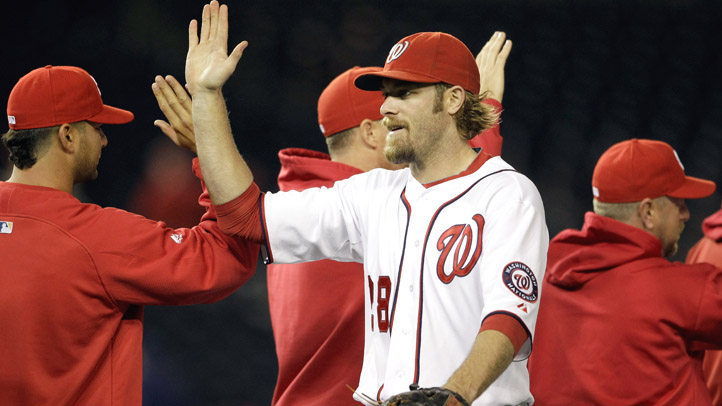 One of the most interesting things about the 2012 season is just how stacked the National League East appears to be.
While the Philadelphia Phillies are going to continue to be the team to beat (Jimmy Rollins, 2007), it's not going to be a cakewalk. It won't be as easy to clinch the division by mid-September as in previous seasons. No, Virginia, they are going to have to work for it in 2012.
The reason, of course, is that the division now sports four legitimate contenders -- with the lone exception being the New York Mets -- whom I suspect will spend most of the season trying to not finish in last place.
Aside from the Phillies, who are going to be the recipients of too many "this team is too old and injured" comments by sports writers, are still the favorites heading into the new year. They have the best rotation in the league (and maybe all of baseball), and despite some nagging injuries, they are going to score enough runs to win 95 or so games.
It won't be an easy road, because right behind them are the Atlanta Braves, who figure to be about the same team that they were in 2011, and the Florida Marlins, who are sporting a new shortstop (Jose Reyes) to go along with an already talented lineup, plus a rotation that is good enough to be among the best in the league.
But the most interesting team to watch in 2012 might just be the Washington Nationals. They could prove to be the biggest surprise in the division, thanks to a solid core of players and a pitching rotation that is pretty darn good.
Grant Brisbee from SBNation has more
"Can the Nationals compete with the Phillies? Absolutely. It's a fine and important distinction between the two, but no one should be surprised if the Nationals are hanging around the top of the division in August, pestering the Phillies, jockeying for position with the Braves, and keeping the Marlins at arm's length. Also, the Mets are in the NL East too, which is just adorable."
The 2012 Nationals remind me a lot of the 2005 and 2006 Phillies -- young talent that is squirrelly enough to cause some havoc, but not quite good enough to actually contend. They'll make things interesting and get the hopes of the fans up, but that's about it.
However, it's still a good time to be a Washington Nationals fan, if for no other reason than to go to the ballpark on a summer night to watch a team that is rife with burgeoning stars and an owner that is the perfect combination of wealthy and unpredictable (kinda' like a super-villain). We all know that Professor Malevolent is going to fail in his scheme, but boy howdy, it sure is a blast watching him try to put that ice ray up on the moon.