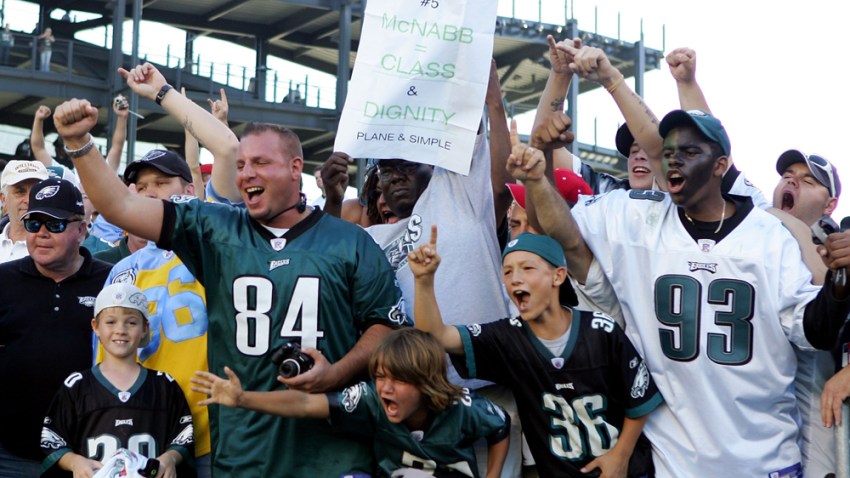 Without Plaxico Burress, the Eagles receivers get the nod.

Looking at the cold and windy weather forecast, don't expect a lot of passing in this one. But with nearly eight different weapons (let's hope L.J. Smith shows up) including DeSean Jackson's speed, Kevin Curtis' drive and Brian Westbrook in the backfield, the Eagles should be able to pick up first downs in the air if they need to against a not so stellar Giants secondary.

The Eagles offensive line allowed 14 sacks in both losses to New York last season. They turned hold the Giants to goose eggs in 2008.

The Eagles have won five of their last six games heading into Sunday, including a Texas-sized smack down on the Cowboys (44-6) to claim the Wild Card and playoff win over the Vikings (26-14). The Giants are 3-3 in their last six, losing to Philadelphia (20-14), Dallas (20-8) and Minnesota (20-19.) Let's also consider that home teams are 2-4 in the playoffs so far this year.

The Giants went 7-1 at the Meadowlands this year. Their only loss was the offensive break down against Philadelphia 20-14.

David Akers doesn't need map quest to get around Giants stadium. He's attempted a field goal there ever year for the last 10 years.

The Meadowlands have been tough on Akers through his career but in 2008 Akers set an Eagles record with 33 field goals drilling 15 of 15 from Oct. 12 to Dec. 7. That streak of course was broken against the Giants week 14 when he went 2-4 but one of those was a fluke block.

Brian Westbrook. There's no question that Brandon Jacobs is good and leads the Giants with the NFC's No.1 rushing attack, but Westbrook is the most versatile running back since Marshall Faulk.

We know what he can do on the ground but he has more receptions (355), receiving yards (3,191) touchdown receptions (24) and yards after catch (2,968) than any other back in the NFL since 2004. Don't expect much passing in this one but that Westbrook screen could pay big dividends for the Birds.

Donovan McNabb is better than Eli Manning. Yeah Eli has a ring, so does Trent Dilfer. With all the Mcbashing this past year, Donovan has actually had one of the best seasons of his 10-year career. McNabb leads Manning in ever major offensive category except interceptions and in the last six games McNabb has thrown 10 touchdowns to just two interceptions, in that same stretch Manning has six TDs to three INTs.

Did we mention McNabb can still scramble and has excellent pocket presence? Watching Manning run is like watching David Hasselhoff in Baywatch, disturbing.

The Eagles have the second best run defense in the league, which they proved against the NFL's leading rusher Adrian Peterson in the Wild Card game. Along with Brian Dawkins in the secondary blitzing, Philadelphia will shut down Brandon Jacobs who abused the Birds in week 10 with 126 yards on 22 carries for 2 touchdowns.

Week 14 was a totally different story with Philadelphia holding Jacobs to just 52 yards on 10 carries; 23 of those yards coming on one run before Jacobs left the game injured.

Let's face it, without the defense we would be talking Spring Training already. Philadelphia has the No.1 total defense in the NFC for good reason allowing 274.3 yards and 18.1 points per game.

The Birds secondary have been lights out but if Manning does throw he could have a field day. Jim Johnson is a defensive genius, though, and this year he'll prove why defense wins championships.

What better way to show Joe Buck some Philly love than by making him broadcast another Eagles win?