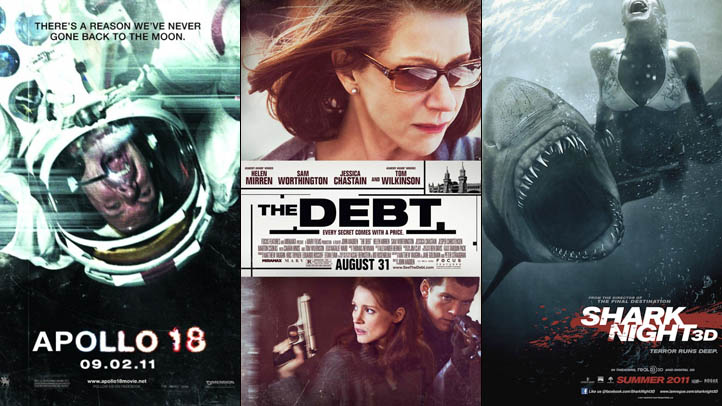 Space horror, comedy orgies, revenge-seeking Mossad agents, and, yes, sharks in 3D round out a weekend that is tailor-made to keep you on the beach for as long as possible. You're welcome, "The Help."
A Good Old Fashioned Orgy
Jason Sudeikis and his lifelong friends resolve to have one last bash before his dad sells the house in the Hamptons, promising to go out with a (gang)bang. Co-stars Tyler Labine, Lake Bell, Will Forte, Lucy Punch and Nick Kroll. In limited release, read our review and watch the trailer

The Debt
Sam Worthington and Jessica Chastain are members of a team of Mossad agents sent to Berlin to capture a Nazi war criminal, Helen Mirren plays Chastain's older self, who most come out of retirement to clean up the mess they left behind. In theaters everywhere, read our review and watch the trailer

Apollo 18
It's "The Blair Witch Project: Dark of the Moon"! This new film shows "found footage" that explains the real story behind why we never, ever went back to the moon--assume you 're one of those nuts who believe we actually went there. In theaters everywhere, watch the trailer
U.S. & World
Stories that affect your life across the U.S. and around the world.

Shark Night 3D
A group of college kids head of to a lake for a weekend of fun, but wind be hunted by a gang of shark-welding hillbillies. In theaters everywhere, watch the trailer

Gainsbourg: A Heroic Life
A film about the late great lecherous pop star, following his life from unhappy childhood as a Russian Jew in WW II France to stardom to misery. In limited release, read our review and watch the trailer

Love Crime
Kristen Scott Thomas and Ludivine Sagnier star in this psychological thriller about a manipulative and sadistic boss in a game of cat-and-mouse with her beautiful and talented assistant--but who's the cat and who's the mouse? In limited release, watch the trailer

Saving Private Perez
The leader of a Mexican drug cartel assembles a ragtag team of to go to Iraq and save his POW brother--yes, it;'s a comedy. In limited release, watch the trailer

Seven Days in Utopia
Lucas Black stars as a struggling pro golfer who relearns golf and life from Robert Duvall. Co-starring Melissa Leo and Deborha Ann Woll. In limited release, watch the trailer