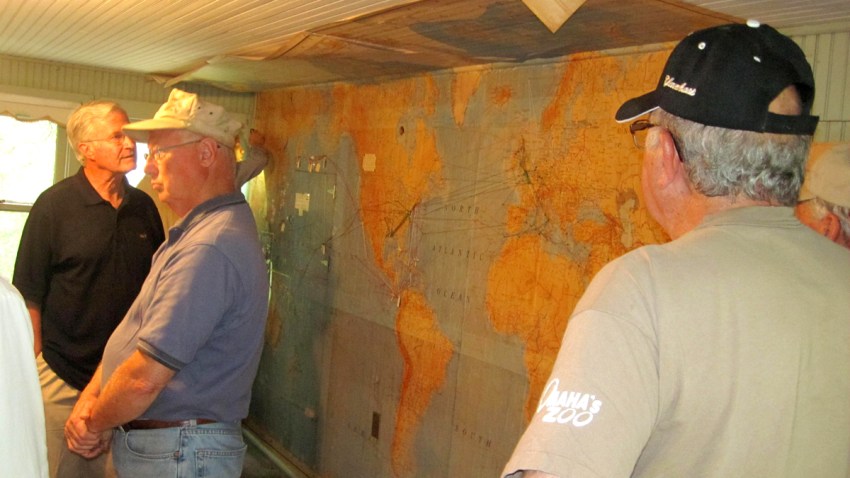 Fifty-two World War II stories that were hidden in a Rehoboth Beach garage will finally be told.
In just a few weeks, a World War II museum in Delaware will welcome a new, historic artifact – an enormous map documenting a rear admiral's travels, as well as every U.S. submarine lost in the war.
"I think it's safe to say that there is no other map like this in the country," Dr. Gary Wray, president of the Fort Miles Historical Association, said.
The preservation and transportation of the 7-by-15-foot map, which Wray says marks all 52 U.S. submarine lost in World War II with a small cross, along with the number of men lost, prisoners of war and the country that destroyed the boat, will be a complex process. It is currently attached to a garage wall in Rehoboth Beach.
U.S. & World
Stories that affect your life across the U.S. and around the world.
"Phase I is saving the map for Delaware and U.S. history," Wray said. "Phase II will be the restoration of the map, and Phase III will be the final destination of the map to either our museum of another final museum resting place."
According to Wray, the map was created in the 1960s and 1970s by the late Rear Admiral Henry Draper Sipple. Sipple, who was from Milford, graduated from the U.S. Naval Academy in 1937, commanded the USS Trench submarine, and was awarded a bronze star for his World War II service. He died in 1992.
The creation came to the historical association's attention when the current owners of Sipple's house embarked on a home improvement project. After discovering the map, they got in touch with a board member, who happened to live just 200 feet away.

"The homeowners were about to redo the garage, they saw the map, and thought it might be important," Wray said.
Now, the Fort Miles Historical Association is working with the Atelier Art Services of Philadelphia to move the map to the World War II museum inside Batter 519 at Cape Henlopen State Park.
"In our view, [this map] is an important part of both Delaware and U.S. history, and therefore deserves to be both saved and preserved," Wray said. "It's not every day you see a map of this nature done by a U.S. submarine commander in World War II who was from Delaware."
Wray said while the group "is excited to save this important piece of World War II history," this isn't the first time the Fort Miles Historical Association has taken on a complex project in order to preserve a piece of history. In 2012, it began the process of restoring the middle barrel of Turret One of the USS Missouri, also known as BB-63. That artifact will eventually be put on display outside the Fort Miles Museum entrance.
"This is not our first rodeo in saving an important piece of American history," Wray said.