A Pennsylvania State Trooper wounded in a wild highway shootout on Tuesday left a Philadelphia hospital in good spirits on Wednesday, just in time to join his family for Thanksgiving.
"I'm feeling all right. I just want to thank everybody for all the prayers and support," Trooper Patrick Casey, 31, said as he left Hahnemann University Hospital. "Happy to be going home for Thanksgiving, and let's go Eagles."
The teenager accused of shooting Casey after a car chase on I-676 in Center City, 17-year-old Giovanni Cotto, meanwhile, was arraigned Wednesday morning and being held on $3 million bail.
Police on Wednesday were continuing to search for Kaymer Lewis, who they said they believe may have witnessed the shooting. They asked for the public's help to locate Lewis, and that anyone with information on his whereabouts call State Police Troop K at 215-452-5216.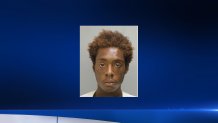 Casey was wounded after a high-speed chase turned into a highway shootout and then fiery crash on one of Philly's busiest expressways Tuesday.
The violence locked down both sides of I-676 as the gunman rammed Trooper Patrick Casey's car, then pulled up alongside him and opened fire before slamming into the back of a school bus, causing both vehicles to burst into flames, State Police Capt. James Raykovitz said.
U.S. & World
Stories that affect your life across the U.S. and around the world.
Casey was shot once through the left shoulder when the gunman got out his car and kept firing through the 31-year-old trooper's windshield, according to police. Casey fired back.
[[353174921, C]]

The drama began around 9:30 a.m. when Casey was working backup for Trooper Timothy Jeter and William Evans, who had pulled over a car with an expired registration on I-76 near the University Avenue exit, Raykovitz said. It was a field-training day for Evans.

The four men inside the car were told to get out. A 19-year-old was handcuffed and put in the back of the troopers' car. They were identifying the others when the 17-year-old gunman, identified as Cotto, got back in the car and took off, police said.
Casey chased him onto I-676 and at one point pulled in front, trying to box in the gunman and force him to stop. It didn't work. The gunman sped up next to Casey and started shooting as both cars raced down the highway, according to Raykovitz. Near 22nd Street, the gunman crashed into the back of a school bus that was empty, except for the driver.
Erika Cabrera was on her way to work when another police car sped past.
"He was going super fast and we wondered what was going on, then we saw this smoke up ahead," said Cabrera, who got off the expressway and began recording the incident with her cell phone as she heard shots fired and saw police chasing down the alleged gunman.
Evans, the trainee, did the "scoop and run" and rushed Casey to Hahnemann.
"He was joking with me and that's always a good sign," District Attorney Seth Williams said after visiting Casey.
Bullets pierced the windshield of the trooper's car seven times and a dozen casings were found at the scene.
"I mean, he's a real hero in that he was shot and then returned fire to try to save and protect citizens on the streets," Williams said. "You know, people that are willing to shoot armed law enforcement officers are a very, very dangerous breed of people."
Two veteran detectives from the Philadelphia District Attorney's Office who were on their way to another assignment happened to be nearby the scene during the chase, shooting and crash, according to officials. The detectives chased down the 17-year-old alleged gunman and apprehended him. They did not fire their weapons during the incident.
Cotto's father told NBC10 his son was injured during the ordeal. The teen was taken to Lankenau Medical Center where he was evaluated before being placed into custody.
Cotto has been charged as an adult with attempted murder, aggravated assault, assault of a law enforcement officer, simple assault, fleeing and attempting to elude, recklessly endangering another person, possessing instruments of crime and several firearms act violations. NBC10 was there as officers transported the handcuffed suspect to his arraignment.
The teen's father spoke briefly to NBC10 Tuesday night.
"I love him," the father said. "It's my son, I love him with all my heart. It's my son! I've gotta be there for my son! No matter what happens, I've gotta be there for my son!"
The 19-year-old man was released and will not be charged.
Police also located and interviewed one of the two men who left the scene when the chase began. That man also will not be charged.
The bus driver was not hurt during the incident.
Casey is expected to make a full recovery and was in good spirits when he was visited by Mayor Michael Nutter.
"He asked me how I was doing," Nutter said while chuckling. "I said, 'Well, that's really not the question right now. The question is how are YOU doing?'"
The highway was shut down in both directions near 22nd Street for nearly three hours.
The last time a Pennsylvania State Trooper was shot in the line of duty was in July. The trooper was hit in the right leg by gunfire in Franklin County, about an hour west of Harrisburg, while responding to a shooting at a home. He made a full recovery.
In 2014, Cpl. Bryon Dickson was killed and Trooper Alex Douglass was seriously hurt when Eric Frein ambushed them outside the police barracks in Blooming Grove, Pennsylvania.