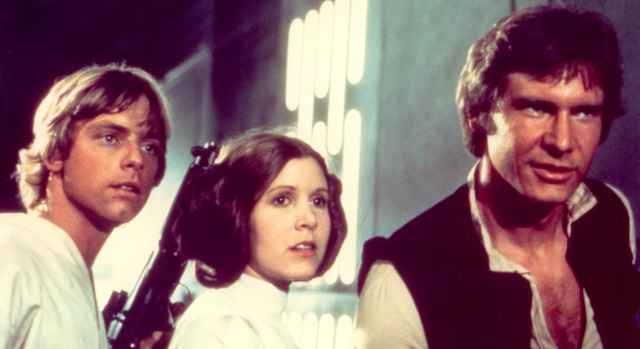 Judging from the theater-rumbling cheers, the first glimpse of the Millennium Falcon in "Star Wars Episode VII: The Force Awakens" sent fans of all ages into hyperdrive with glee.

But the return of the fastest hunk of junk in the galaxy played at different speeds to different generational subsets of fans: those of us old enough to have seen the original film in movie houses in 1977, those who caught the last major theatrical rerelease 20 years later and those raised on DVDs.

Forget the nostalgia crowd: The kids seeing the old bucket of bolts race across the big screen for the first time got the best deal.

Now the original three installments of George Lucas' enduring series return to theaters across the nation for a string of one-day marathons that begin Saturday — offering a rare chance to binge watch with other fans in a venue far, far bigger and better than a mere living room.

Sure, the special effects that wowed untold millions nearly 40 years ago now might look a little creaky, and, yes, Ewoks might appear both cuter and creepier in celluloid.

But Lucas built "Star Wars" for theaters — not only for the visual impact, but for the communal experience of sharing "oohs" and "ahhs" with the masses. While Lucas' three prequels, released between 1999 and 2005, couldn't meet the bar raised by the original trio, director J.J. Abrams recaptured the classic vibe with "The Force Awakens" last year.

The revival heralded more chapters to come as well as more prequels and "Star Wars" universe offshoots. There's the danger, of course, of fan disappointment as Disney cranks out movies make good on its $4.1 billion investment in the fantasy series.

But it's safe to say there's little chance of disappointment in catching the original three flicks in the dark side of movie theaters, where the Millennium Falcon flies at its fastest and The Force remains its strongest.
Jere Hester is Director of News Products and Projects at the City University of New York Graduate School of Journalism. He is also the author of "Raising a Beatle Baby: How John, Paul, George and Ringo Helped us Come Together as a Family." Follow him on Twitter.
Copyright FREEL - NBC Local Media