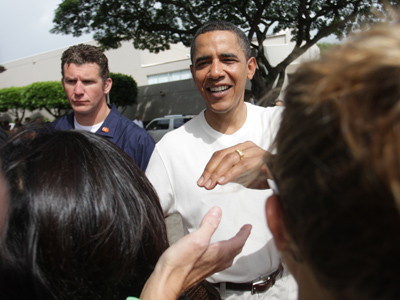 President-elect Barack Obama used his weekly radio address to drum up bi-partisan support for his nearly trillion dollar economic plan, which calls for pouring money into the nation's infrastructure, building new schools and giving a tax cut to the middle class. Obama, who will move with his family to Washington this weekend, is scheduled to meet with leaders from both parties to discuss his proposal, which he has promised will save or create 3 million jobs over the next three years.

"For too many families, this new year brings new unease and uncertainty as bills pile up, debts continue to mount and parents worry that their children won't have the same opportunities they had," he said. "However we got here, the problems we face today are not Democratic problems or Republican problems. The dreams of putting a child through college, or staying in your home, or retiring with dignity and security know no boundaries of party or ideology."

Obama has faced push back from Republicans concerned about the ballooning cost of the plan — it now stands at $775 billion — and leaders have called for public hearings and said the plan should be free of special interest earmarks.

"This is taxpayers' money, and they deserve to know their hard-earned tax dollars aren't being wasted," said John Boehner (R-OH) in a statement.

Republicans have put forward a plan of their own which is largely based on reforming tax laws that they say would create one million jobs.

Obama said his plan will provide jobs in the short-term and long-term economic growth, by upgrading classroom technology and "greening" buildings and reforming the health care system.

"[T]his plan must be designed in a new way - we can't just fall into the old Washington habit of throwing money at the problem. We must make strategic investments that will serve as a down payment on our long-term economic future," he said. "We must demand vigorous oversight and strict accountability for achieving results. And we must restore fiscal responsibility and make the tough choices so that as the economy recovers, the deficit starts to come down."
Copyright POLIT - Politico