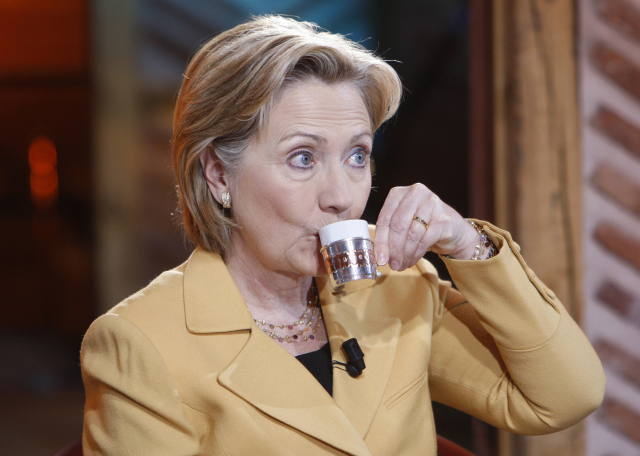 ANKARA, Turkey — President Barack Obama will visit Turkey soon, making the Muslim nation bridging East and West one of the first foreign visits of his presidency, Secretary of State Hillary Rodham Clinton said Saturday.
The trip would mark an improvement in a long friendship between two NATO allies that has been strained by the invasion of Iraq and other issues.
"We share a commitment to democracy, a secular constitution, respect for religious freedom and belief and in free market and a sense of global responsibility," Clinton said at a news conference with Turkish Foreign Minister Ali Babacan.
U.S. & World
Stories that affect your life across the U.S. and around the world.
Clinton said Obama had asked her to announce on her visit — the last stop on a weeklong trip that took her to five countries — that he would visit in the "next month or so." Clinton said the visit is "a reflection of the value we place on our friendship with Turkey."
She said the two allies will consult on the safest, most effective way to withdraw U.S. forces from Iraq. Turkey has said it is ready to serve as an exit route for U.S. troops.
"We have to discuss what will pass, what kind of equipment," Babacan said. "We are ready to cooperate."
Turkey would be the sixth foreign stop of Obama's presidency, after Canada, Britain, France, Germany and the Czech Republic.
Obama had promised during his presidential campaign that one of his top priorities would be to work to repair America's reputation worldwide, and that one element of that effort would be a speech delivered in a Muslim capital. His ascension to the White House was cheered around the world as a sign that America will be more embracing, more open to change. In his Inauguration Day address he said, "To the Muslim world, we seek a new way forward, based on mutual interest and mutual respect."
Asked whether Turkey would be the venue for that speech, Clinton replied, "No, we are just at the beginning of the planning. This decision was reached late yesterday in Washington." She added, "We don't even have the dates decided yet." She said she received a call from the White House while she was flying to Ankara late Thursday night giving her the go-ahead to announce the visit.
Turkey is an ally seen as key to resolving several U.S. foreign policy problems, including blocking Iran's nuclear ambitions and turning around the war in Afghanistan.
The southern Incirlik air base has been used for transfer of U.S. troops and equipment to Iraq and to Afghanistan.
Clinton also said talks were underway between two U.S. representatives and Syrian officials in Damascus.
The Obama administration's decision to send Jeffrey Feltman, the top State Department envoy on the Mideast, and Daniel Shapiro from the White House to Syria was the most significant sign yet that it is ready to improve relations with the Syrian government after years of tension.
"We are just at the beginning of exploring the issues that we must discuss between us," Clinton said. "We have not decided on any next steps."
Babacan said Turkey was willing to host more indirect talks between Syria and Israel.
"There have been four rounds of talks between Syria and Israel and we had suspended our mediation during Gaza war, but whenever Syria and Israel are ready and if they ask we can get involved in the process again," Babacan said.
A Turkish government official said Clinton told Babacan that the United States was looking to see whether "a new chapter" in relations with Syria was possible. She said the United States would welcome Turkey's contribution to improved ties to Syria. The Turkish official who was present in the meeting spoke on condition of anonymity because he was not authorized to speak to journalists.
Babacan on Saturday reiterated Turkey's position on the need to engage Hamas. Similarly, Turkey urged the United States to engage Iran, the official said. Clinton did not respond but took notes, he said.
Clinton talked with Prime Minister Recep Tayyip Erdogan for nearly two hours at his residence before visiting the mausoleum of Mustafa Kemal Ataturk, Turkey's national founder. Erdogan's office said in a statement that the two discussed bilateral relations, the Middle East, Iraq, Afghanistan and combatting terrorism.
Copyright AP - Associated Press