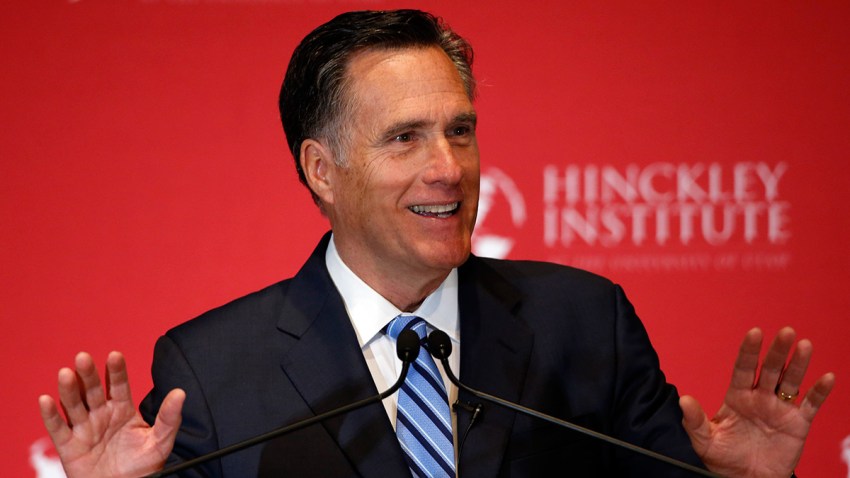 Former Republican presidential nominee Mitt Romney said there are "no circumstances" under which he will join the 2016 race for the White House, even as he calls for an alternative candidate to front-runner Donald Trump.
Romney told NBC's "Today" on Friday that he sees "no reasonable scenario" to run again, but added that he will not vote for Trump or Democratic candidate Hillary Clinton.
"I'm not running for president and I won't run for president," Romney said.
U.S. & World
Stories that affect your life across the U.S. and around the world.
The 2012 GOP nominee gave a scathing speech Thursday in Salt Lake City condemning Trump as a candidate, warning that the billionaire businessman is "a phony" who is "playing the American public for suckers."
Trump — who endorsed Romney in 2012 — fired back, calling the former Massachusetts governor a "choke artist" whose campaign was a "disaster."
When asked about the timing of Thursday's speech, Romney said he simply "couldn't stand silent anymore" as the GOP race reached a "new low in presidential politics."
"The time came when Donald Trump's outrage had reached such a level that I simply had to speak out. You get to the point where you say, your grandkids are going to say to you, 'Papa, what did you do to stop Donald Trump?' And I had to get out there to speak," Romney explained.
Despite his staunch opposition to Trump, Romney has thus far declined to endorse another GOP candidate for president.
The former governor said he expects the field to narrow after March 15's primaries and "wouldn't be surprised" if he made an endorsement then.
Sen. Marco Rubio, one of three remaining challengers to Trump, also appeared on "Today" Friday and and explained why he would still vote for Trump should he become the GOP nominee.
"That's the quandary that we're in,'' Rubio told Guthrie. "We as Republicans feel that Hillary Clinton would be a disaster to the country. That's how bad she is. I would look at that as a reflection of how bad she is, not how bad Donald Trump is."
Copyright AP - Associated Press