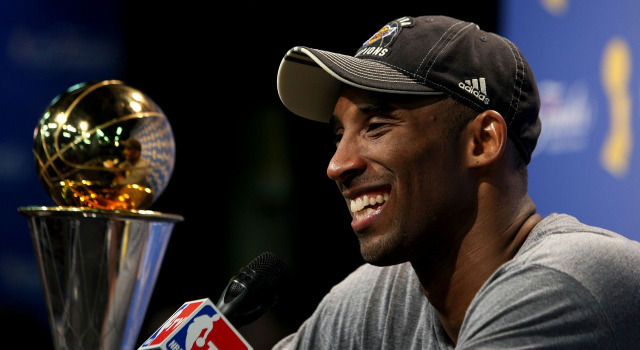 All season long, there was a feeling among some NBA observers that when the Los Angeles Lakers were truly focused and brought their "A" game, it wouldn't matter what anyone else did. They were the best team in the league.

The Lakers sure looked like those champions Sunday night.

The Lakers won their franchise's 15th NBA Championship with a dominant performance on both ends of floor, beating Orlando 99-86 in a game that never felt close. The Lakers pulled away from the Magic in the second quarter, took their heart away with some key threes in the third, and spent much of the fourth celebrating with a surprising number of Lakers fans in Amway Arena in Orlando.

Kobe Bryant, who averaged 32 points and seven assists during the five finals games, earned MVP honors. His post-game comments took on an air or redemption from a man whose ability to win without Shaq was always a question.

"It's so tough to win a championship, to start over from scratch, and we started over from scratch," Bryant said of the team after the trade in the summer of 2004 of O'Neal. "And here we are again, this really feels like a dream."

The win gave Lakers coach Phil Jackson his 10th title, moving him past Celtics legend Red Auerbach for most win ever by a coach.

"I will smoke a cigar tonight in memory of Red," Jackson said.

The five game series win came surprisingly easily for the Lakers. Orlando's Dwight Howard did not play the same dominant role he had in beating the Cavaliers, and his team, save for one incredible shooting night, didn't play like champions.

Pau Gasol, who had been labeled as soft after last year's Finals, continued to show he is anything but with four blocked shots and another dominating defensive performance helping keep Howard and the Orlando front line in check. Through the entire series Orlando was never able to really get it's inside-out offense going because the Lakers big men played Howard to a standstill.

"The motivation came from the loss, not the (offseason) criticism," Gasol said. "We worked so hard as a team and individuals to reach this amazing moment."

The Lakers have a lot of offseason questions to deal with — Odom and Ariza are free agents, Bryant can opt out, Jackson has hinted he has thought about retirement — but, for at least a little while, none of that matters in Los Angeles. The Lakers are too busy spraying champagne around and celebrating their victory to worry about tomorrow.

Copyright FREEL - NBC Local Media