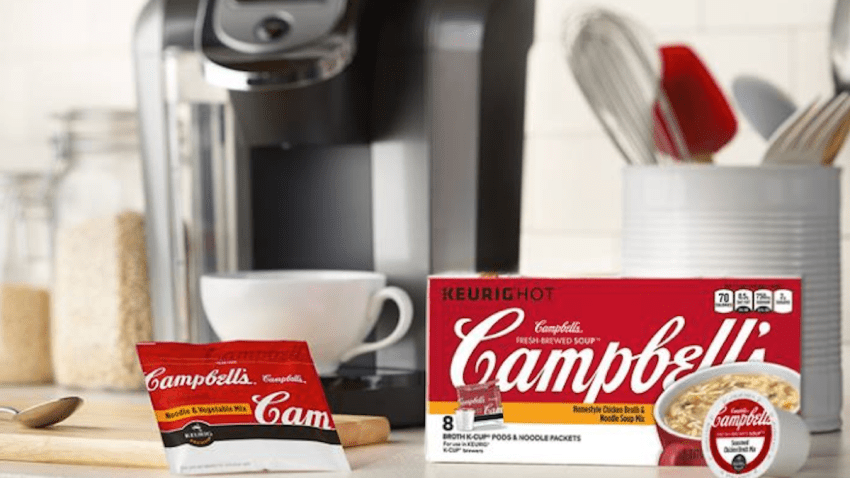 Microwavable Cup-a-soup and ramen noodles have long been a culinary staple for college students. But the food synonymous with cash-poor undergrads is getting a millennial makeover.
Keurig Green Mountain, Inc., the purveyor of pod coffee machines, is finally bringing its K-Cups to the soup aisle, two years after announcing the partnership with Campbell's Soup Co.
"We know more than 80 percent of people who buy Keurig pods also buy Campbell's soup, so bringing together two products people love in one handy kit is a winning idea," said Michael Goodman, marketing director at Campbell Soup, in a joint news release from the two companies.
U.S. & World
Stories that affect your life across the U.S. and around the world.
The Fresh-Brewed Soup kit is available in Homestyle Chicken Broth & Noodle Soup Mix and Southwest Style Chicken Broth & Noodle Soup Mix.
The two-step process consists of a packet of noodles, which is emptied into a 12-oz cup, and a K-cup pod of broth. Brew. Stir. For consumers worried their soup would taste like coffee, or coffee would taste like soup, Goodman says Keurig suggests running a brew cycle before alternating between the two.
The companies say it's a 70-calorie treat with no artificial colors or flavors. The soup costs $11.99 for an 8-pack.