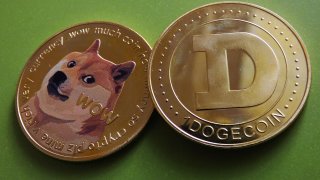 "Doge," the image of an excited-looking Shiba Inu considered one of the internet's most iconic and renowned memes, has sold as a nonfungible token, or NFT, for $4 million, making it the most expensive meme NFT of all time.
On Friday, the auction winner, @pleasrdao, placed a willing bid of 1,696.9 of the cryptocurrency Ethereum, worth approximately $4 million, according to the auction site Zora.
"We're so happy to be a part of this milestone in internet history. If any meme deserved to be the new meme NFT record holder, it's Doge," said Don Caldwell, editor-in-chief of the internet meme database Know Your Meme, which certified Doge ahead of the auction to ensure that the meme was being sold by its rightful owner.