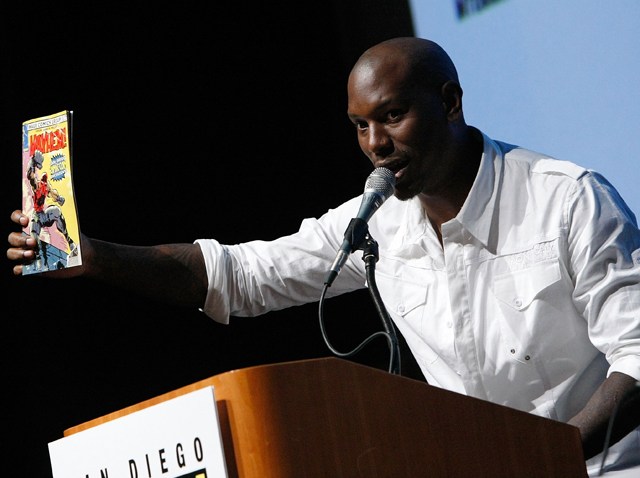 At an event dominated by a man who was admittedly very skinny, another man, more famous for his imposing physique, threatened to take just a bit of the buzz himself.
While Apple CEO Steve Jobs stood on stage and talked about the importance of organ donation, actor and model Tyrese Gibson stood in a corner of the room, hunched over his laptop, almost unnoticed as he tried to boot up the world's first "digital comic book."
"It's called Mayhem," he said, clicking furiously, as if on the verge of a breakthrough. And then, there it was. Right there on the front page of iTunes. Mayhem, Number One. Tyrese got silent, and just stared. What must it be like, even if you're already famous, to get that center slot on iTunes? I asked. "It's cool," Tyrese said, quietly. Then, quickly, "Look, here it is: Steve Jobs is the genius of all geniuses, as we all know. Having him back, and working with him, is the greatest."
U.S. & World
Stories that affect your life across the U.S. and around the world.
Kind of refreshing. A guy, known more for his abs than his apps, taking a moment away from his own glory to remember why we were there. But when we moved on to Mayhem, things got even more impressive. A digital comic book is a good way to describe it. The best comic book artists (Mike Le, Tone Rodriguez, and others) helped Tyrese and his Apple crew, Tyrese himself provided the ongoing voice-overs, and the action moves quickly, click by click. Or, on your iPhone, touch by touch.
"Mayhem" is noirish, has a happy ending, and yes, even contains a mention of abdominals. But if you've seen Tyrese (and, by the way, everyone seems to use the first name, so I will too, I guess) in movies like "Transformers" and "Four Brothers," you can see why people who passed him by at the Apple event assumed he was just there as eye candy. He's a handsome guy. But he's also talented and creative, a good match for Apple's iTunes, which is making a big move into new content.
He's taking his newest craft very seriously, and Apple seems ready to go along for the ride. Don't hate him because he's beautiful. Just download, and read, his comic book.