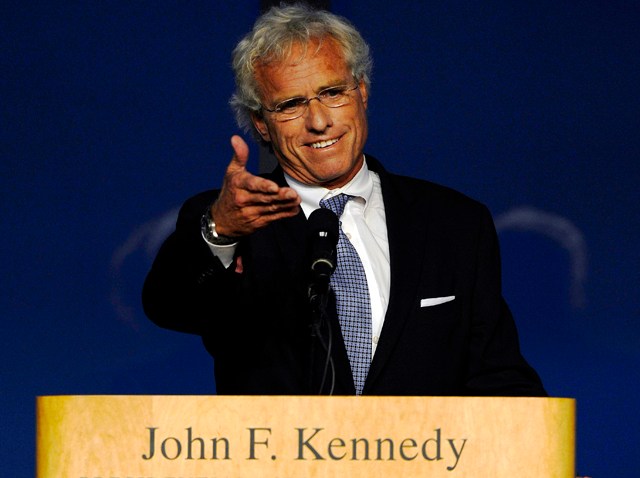 I guess Camelot really is over now.
With the ratification of the Constitution in 1789, the United States has existed in its current form -- with a House of Representatives and a Senate -- for 220 years. There's been at least one Kennedy in the Senate for one-quarter of that time. For the state of Massachusetts, it's even more remarkable -- a Kennedy has sat in one of the two Senate seats for 55 of the last 57 years, from John F. Kennedy's 1953 swearing-in to Edward M. Kennedy's death last month. The only time that a Kennedy wasn't in that seat was for the less-than two-year period between JFK's ascension to the presidency and Teddy's winning election in 1962 -- JFK's college roommate Benjamin Smith "took one for the team" and held the seat until Teddy turned 30.
Over the Labor Day weekend, former Rep. Joseph Kennedy -- Bobby Kennedy's second-oldest son -- announced that he would not be a candidate for his uncle's seat in a January special election. Had he entered the race, very few Democrats would have opted to challenge the family name. Without him in it, the sky's the limit (state Attorney General Martha Coakley, apparently anticipating this decision, already put her hat in the ring). It will be a strongly contested race, with at least three current or former members of the House seeking to move up.
U.S. & World
Stories that affect your life across the U.S. and around the world.
There's still a possibility that -- if Massachusetts Gov. Deval Patrick gets the legislature to permit an interim appointment -- Kennedy's widow Victoria Reggie Kennedy could take the slot. However, even if that happens, nearly everyone assumes that it would only be until the special election takes place.
Nope. This time it looks like, with the passing of Teddy, the Massachusetts part of the Kennedy dynasty is, for now, coming to an end. The question is, "How long?". As much as egalitarian America rhetorically doesn't like the idea of dynasties, the funny thing is we adopt them anyway. Massachusetts, in particular, seems to really, really, like them: John F. Kennedy's opponent in the 1952 U.S. Senate election? Henry Cabot Lodge Jr. Lodge's grandfather was previously a Massachusetts senator -- as was his great-great-great grandfather, George Cabot.
Dynasties never really die. They may just take a few years off before resuming once again. Just ask George W. Bush.
New York writer Robert A. George blogs at Ragged Thots. Follow him on Twitter.
Copyright FREEL - NBC Local Media