A drunk driver pulled into a Delaware County, Pennsylvania police station early Wednesday morning and told officers he wanted to be in a "safe" place, according to police.

Around 4 a.m., Upper Darby police officers watched on security video as an SUV veered into an exit lane, hopped a curb and clip a security gate while driving into the police station's private parking lot, police superintendent Michael Chitwood said.

The SUV then motored along a sidewalk before parking in a spot around back designated for squad cars, he told NBC10.
Chitwood said an officer ran out of the station and found 44-year-old Sean McCullough, of Havertown, "totally ossified."
McCullough admitted to being "hammered" having consumed 12 to 14 beers in Philadelphia and Trenton, New Jersey, police said.
Officers tried to perform a field sobriety test on McCullough but he told them "I'm too drunk for that," police said.
He came to the station because "it was the safest place," police said.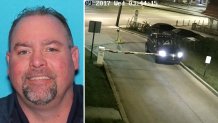 Officers took McCullough to the hospital to be checked out.
U.S. & World
Stories that affect your life across the U.S. and around the world.
A district court judge arraigned McCullough on careless driving and driving under the influence charges and set bail at $10,000.
McCullough told NBC10's Steven Fisher Thursday that he is embarrassed and has a problem to address.