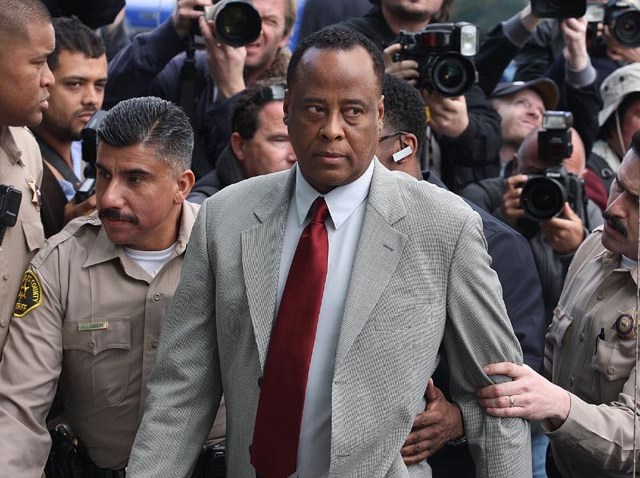 A detective testified Thursday that Dr. Conrad Murray made 11 phone calls totaling just under 90 minutes as he treated Michael Jackson the day the superstar died.

Detective Dan Myers was scheduled to return to the stand Friday, which is Day 4 of the preliminary hearing. Los Angeles Superior Court Judge Michael Pastor is being asked to determine if there is enough evidence for Murray, 57, to stand trial.

Myers testified Thursday that Murray -- who had two cellular phones in his name -- had made or received the calls between 7:01 a.m. and 11:51 a.m. June 25, 2009. Prosecutors contend that Murray, who is charged with involuntary manslaughter in connection with Jackson's death, administered propofol to Jackson at the singer's rented Holmby Hills estate between 10:40 and 11 a.m.

Myers said the doctor's phone calls that morning included a 32-minute call to his practice in Las Vegas. They also included an 11-minute call made just before the doctor called Jackson's personal assistant at 12:12 p.m. to report that the singer had a "bad reaction," according to cellular phone records presented by Myers.

The calls also included one at 1:08 p.m. -- when other witnesses testified Murray was making a phone call from the ambulance containing Jackson -- to the mother of Murray's child, Myers said.

Prosecutors contend that Murray had "abandoned his patient" after administering the sedative, which is normally used in hospitals. Jackson died of acute propofol intoxication.

Prosecutors contend that Murray failed to tell paramedics or doctors that he had administered propofol to the singer and took steps that were an "extreme deviation from the standard of care." They also contend Murray and security personnel collected drug vials and other materials from the room before calling 911.

ER Doctors: Murray Never Indicated He Administered Drug

Two emergency room doctors from Ronald Reagan UCLA Medical Center testified Thursday that Murray never told them he had given the pop superstar a powerful sedative that eventually killed him.

Dr. Richelle Cooper testified that the singer "had no signs of life" when he was brought to the hospital.

She said she asked Murray what medications Jackson was on, and Murray said only the anxiety medication lorazepam. Cooper said Murray did not say he had given Jackson propofol.

Dr. Thao Nguyen, a cardiology fellow at UCLA, testified that she was introduced to Murray at the hospital and asked him what had happened. Murray told Nguyen that Jackson -- who had been rehearsing for a series of concerts in London -- was very tired but had difficulty sleeping and required some medications to help him rest, she said.

The doctor said she asked Murray what medications Jackson was given, and Murray mentioned only lorazepam.

Doctors worked on Jackson from the time the ambulance arrived at 1:13 p.m. until 2:26 p.m., when the singer was pronounced dead, Nguyen said.
Copyright CNS - City News Service