We require all new drivers to pass a road test, to ensure their safety physically.
But what about their safety online?
That's what Willie Goldsboro, an employee at the Dover DMV in central Delaware, found himself wondering one day. As he congratulated students and handed them their licenses, he grew increasingly concerned with what he saw them doing.
"I mean, they're standing right in front of me. You see them taking a picture holding up their license, and you know they're posting straight to social media. That can hit a lot more people than you think."
U.S. licenses have the driver's full name, picture, DOB, license number, and address — personal information that, after being posted, could be stolen and used without the owner's permission.
Goldsboro says his father-in-law, a cop, deals with issues like identity theft and child abductions, so watching kids post this information was a red flag for him. He approached Laura Russum, another DMV employee who coordinates social media and communications, for help.
Originally, Russum said, they thought of creating a license prop. When that didn't fly, they brainstormed ways to cover up identifying information on the new licenses. But that didn't feel right, either.
U.S. & World
Stories that affect your life across the U.S. and around the world.
Finally, on their fourth round of ideas, she knew. "I'm a photographer as well, and I know people like to take photos in front of fun backdrops. Why not one of those?"
She designed the signage and wording for the backdrop, plus shareable hashtags to go with it.
The resulting project was a hit.
On Monday, Delaware's Division of Motor Vehicles launched "Safe Selfie Zones" at its four locations – so new drivers can collect likes, without compromising privacy.
"We want you to share the love," reads a placard next to the brightly colored backdrop, "but before you snap that selfie… REMEMBER your license has personal information that should be protected."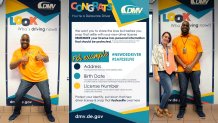 In 2017, Delaware issued around 36,500 new licenses to minors and adults.
"As far as we know," Russum said, "this is the first initiative of its kind." They hope to present it in DelDOT's Innovation Space this year and at a trade conference, where it could be used as a model by other government administrators.
Joseph Turow, a professor at the University of Pennsylvania's Annenberg School for Communication and an expert in media and digital privacy, said he applauds the Delaware DMV for the project. He sees it as a way to warn those who might not be aware of the implications of what they post.
"There's some who might say that this generation cares less about privacy, but we have evidence to show that's not the case," said Turow. "They care, but in the moment, they just don't think about it."
When asked if he'd like to see the Selfie Zone implemented in other places, Willie said, of course: "That means there'd be people being safe everywhere."
Maybe, he suggested, states could compete to see who had the best selfie wall. "The best thing we can do is take care of and look out for each other."
For now, the Delaware wall features a background with the DMV logo, where people can take pictures to share on their personal social media accounts (in lieu of posting their actual license).
In blue, yellow, and orange, words at the top of each backdrop read: "Look who's driving now!!"