The search is on for a car that police say struck a woman and her two children as they crossed the street in South Philadelphia Tuesday afternoon.
Car Strikes Mother and Children, Speeds Off
The car, described by officials as a red 2001 two-door Honda Accord, was last seen traveling east on Dickinson Street from Broad, police said.
Police say the driver struck the 30-year-old woman, her 5-year-old daughter and her 4-month-old son as they crossed the street about 12:50 p.m., but did not stop.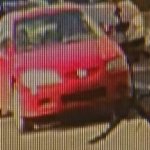 "It doesn't appear, at this time, with the information that I have, that the car slowed down and stopped," said Philadelphia Police Captain Drew Techner. "Instead the car fled eastbound on Dickinson Street from Broad Street."
NBC10 obtained surveillance video of the car striking the family and then speeding off. The impact threw the 5-year-old girl 20 feet into the street.
Christopher Tereo, who works near the scene of the crash, told NBC10 what he witnessed the aftermath.
U.S. & World
Stories that affect your life across the U.S. and around the world.
"I actually heard the young girl screaming and crying," Tereo said. "I saw the mom. She was lying on the ground. She was unconscious and I saw them holding the baby. It was pretty disturbing."
The woman was taken to Hahnemann University Hospital, while her children were taken to the Children's Hospital of Philadelphia.
"Whoever it was hit her hard," said Reverend Paul Moore, a witness who held the baby boy in his arms until medics arrived. "The mom couldn't say anything. The mother didn't care how hurt she was. She said, 'My children! My children!'"
The woman is being treated for head injuries and is currently in critical but stable condition. The 5-year-old girl suffered a broken leg and femur while the baby boy suffered scrapes to his head. Both children are in stable condition.
Witnesses say the hit-and-run vehicle is missing the passenger's side mirror.
Anyone with information on the vehicle or driver should call 9-1-1 or 215-685-3180.