UPDATE: Carlesha Freeland-Gaither was found ALIVE in Jessup, Maryland. New details here.
---
Three days after her abduction off a Philadelphia street, Carlesha Freeland-Gaither's family continued to staple missing posters to poles in the neighborhood where she was taken.
"It's been three days now and nothing. We're just hoping that it doesn't keep going without answers," said Ana Mulero, the woman's grandmother.
"Inside I'm broken. I just want answers," she said.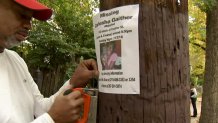 Answers remain scarce, even as investigators piece together new clues in their search.
The FBI released new surveillance video of the person of interest Wednesday afternoon, as authorities try to find him and the missing 22-year-old victim.
The video was recorded Sunday afternoon, the day of the abduction, at an ACME supermarket in Northeast Philadelphia. Officials went to the store, located at 8200 Roosevelt Boulevard, Wednesday morning and collected the video. They have not said how they were led to the store.
Detectives are asking the public to look at how the man walks with a slight limp, his clothing and shoes and what he purchased. They also plan to run the photos through a facial recognition system in an attempt to identify him.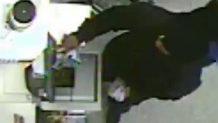 Local and federal investigators expanded their investigation outside of Philadelphia on Tuesday after learning the man, similar in description to the person captured on surveillance video violently kidnapping Freeland-Gaither, used her ATM card in Aberdeen, Maryland. That happened on Monday less than 8 hours after the abduction and 75 miles south of the scene.
U.S. & World
Stories that affect your life across the U.S. and around the world.
Philadelphia Police named him as a person of interest, FBI agents collected forensic evidence from the bank and a gas station and new surveillance images were released.
Still, his identity remains unclear to authorities and Freeland-Gaither's family.
"Part of me makes me believe that this was random, but part of me when they talked about her ATM card being used in Maryland, it might maybe be somebody that she knows. You know, I'm not really sure," Mulero said.
The person of interest is not familiar to the family, but after watching new video showing the abduction, Freeland-Gaither's mother, Kesha Gaither, believes her daughter somehow knew the man. The video, released Tuesday night, shows the man approach the woman from behind at the corner of Greene and W. Coulter Streets. They appear to shake hands before he lunges and pushes her out of view.
"You see it's clear that, like, she knew him. She had to knew him. It was too calm, he was too calm. Like he timed her. Like he was out to come get her. Like she was his target," Keisha Gaither said.
The original video picks up there. Showing the man pulling Freeland-Gaither down the block and into a waiting gray metallic Ford Taurus. She struggles to get away and busts out the back windows of the car, but can't escape.
Detectives spent several hours Wednesday interviewing Keisha Gaither and other members of the family. They called the interview routine.
Smart, caring and full of life, Freeland-Gaither works as a nursing aide at Penn Presbyterian Medical Center's cancer center, according to her family. They call her a fighter, a trait displayed in the surveillance video of the attack.
"All we want to do is send our granddaughter back. Just send her back," Mulero said.
Mulero and other family members will be back out at the crime scene at 7 p.m. Wednesday to hold a candelight vigil.
The reward for the capture and conviction of her kidnapper has climbed to $47,000 with money put up by the city, FBI, Citizens Crime Commission, Fraternal Order of Police and Philadelphia Federal Credit Union.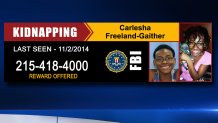 Digital billboards with the woman's photo will also be put up along Interstate 95 from Pennsylvania to Virginia with the hope of gleaning some information about her whereabouts, an FBI spokesperson said.
Philadelphia Police are asking for anyone with information to call their tipline at 215.686.TIPS.
---
Contact Vince Lattanzio at 610.668.5532, vince.lattanzio@nbcuni.com or follow @VinceLattanzio on Twitter.