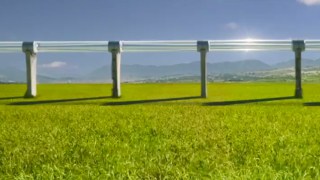 Calling all pod racers: Aerospace manufacturer SpaceX has announced its Hyperloop pod competition.
The privately funded transportation project aims to transport passengers in pods that travel up to 750 miles per hour, nearly the speed of sound. With a functional Hyperloop, passengers could travel from San Francisco to Los Angeles in just a half hour.
Last month, Hyperloop CEO Dirk Ahlborn speculated to Wired that the project may be free of charge or close to it and that the Hyperloop could make money through means other than ticketing, such as selling off excess energy.
SpaceX itself is not developing a commercial Hyperloop. Instead, the company announced "an open competition, geared towards university students and independent engineering teams" to design and build a prototype.
But SpaceX said it would construct a one-mile test track near its Hawthorne, California, headquarters so that teams can test their human-scale pods on it. In addition to its formal competition announcement, SpaceX also launched its @Hyperloop Twitter account on Monday.
The competition is currently scheduled for a weekend in June 2016. Submissions to the contest must be received by 5 p.m. PDT on Sept. 15, 2015.
Published at 3:59 PM EDT on Jun 15, 2015 | Updated at 9:22 AM EDT on Jun 16, 2015