An investigation is underway after a recent high school graduate was shot and killed while watching the sunset with his girlfriend at a state park in Bucks County.
Jason Kutt, 18, was sitting with his girlfriend by the lake near the entrance of Nockamixon State Park along Old Ridge Road around 5:15 p.m. Saturday.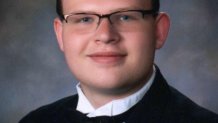 Kutt's girlfriend told police she then heard a gunshot and noticed her boyfriend fall backwards. Police said Kutt had been shot once in the back of the neck.
Kutt's girlfriend said she spotted a man dressed in an orange vest and hunting gear about 550 feet away standing behind a yellow gate on Old Ridge Road moments after the shooting. She said the man was looking in their direction before leaving the scene.
Pennsylvania State Game Wardens and State Park Rangers who were patrolling the park quickly responded. Kutt's girlfriend and emergency crews performed first aid on the teen.
Kutt was then taken to St. Luke's Hospital - Bethlehem where he was pronounced dead Monday morning. Kutt had graduated earlier in the year from Pennridge High School.
Local
Breaking news and the stories that matter to your neighborhood.
Bucks County District Attorney Matt Weintraub said Kutt's organs will be donated.
"I'd like to commend his family for making a courageous decision to have Jason give the gift of life to others," Weintraub said.
Officials said hunting is allowed at Nockamixon State Park and it's currently muzzleloader season for deer.
"It is my understanding that although this park is open to the non-hunting public, hunters are permitted as long as they follow the rules," Weintraub said.
Investigators have not identified the gunman nor have they determined whether or not the shooting was intentional. Police throughout Upper Bucks County, including a K9, and a state police helicopter searched the area but did not find any persons of interest.
"We don't have any suspects," Weintraub said. "We don't even know if a crime was committed yet. But we need to understand how Jason Kutt died. And we need your help to do that."
Investigators are asking anyone who may have been at the park on Saturday to come forward with information.
"We need to understand what the shooter's intent was, whether there was actually any criminal mental state," Weintraub said.
"Things can happen on purpose, they can happen knowingly, they can happen recklessly, they can happen through gross negligence or purely by accident, and we have no way of knowing other than making educated guesses at this point and that's not sufficient. Jason Kutt is entitled to more than that."
Anyone with information is asked to contact the Bucks County Detectives at 215-348-6868 or 215-340-8140. You can also submit a tip here.