A Delaware County woman is speaking publicly about the sexual assault she endured at a Chester County Massage Envy franchise as a new report alleges there are dozens more victims like her across the country.
Susan Ingram was in the middle of a massage at Massage Envy's West Chester location in May 2015 when her massage therapist, James Deiter, sexually assaulted her with his fingers. Ingram said Deiter also placed his erect penis in her hand and ran it across her body.

"I felt humiliated. I felt used. I felt broken...," Ingram said in an interview that aired Monday on The Today Show.

Ingram was one of nine women assaulted by Deiter, who later admitted to the crimes in a 2016 plea agreement. Court documents show the 65-year-old Lancaster County man pleaded guilty to three counts of aggravated felony indecent assault and six counts of misdemeanor indecent assault. He is serving up to 13 years in a state prison and is registered as a sex offender.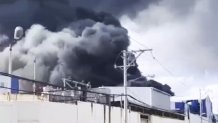 Ingram also shared her story as part of a BuzzFeed News investigation published Sunday. The report found Ingram is among some 180 people who filed sexual misconduct complaints or lawsuits against Massage Envy employees at locations nationwide. The report alleges the billion dollar spa chain and its franchisees mishandled or ignored these cases and many more.
NBC News has not confirmed all of the allegations.
In Deiter's case, two women tried to warn the franchise about inappropriate behavior before Ingram was assaulted, BuzzFeed reports. Ingram told NBC News and BuzzFeed she was dismissed by the West Chester location's manager when reporting the incident. Deiter was fired after Ingram filed a police report.
In a statement Sunday, Massage Envy — which has more than 1,100 franchises in 49 states, according to the company's website — said the incidents described in the report were "heartbreaking for us and for the franchisees that operate Massage Envy locations."
Local
Breaking news and the stories that matter to your neighborhood.
Adam Horowitz, a lawyer who has worked on two dozen cases against Massage Envy, said the actual number of assaults is likely considerably higher.
Ingram has filed a civil lawsuit against Massage Envy alleging in court documents that the West Chester staff "unfathomably recommended Deiter to unknowing female customers after they knew he had already sexually assaulted at least one client at that location."
The suit is pending a jury trial in Philadelphia's Court of Common Pleas.
[NATL] Top News Photos: Pope Visits Japan, and More