Police arrested a man accused of spray-painting crude and racist graffiti at several locations in Coatesville, Chester County Tuesday, damaging a storefront, a Mercedes Benz and a garage.
George Rissell, 24, of Coatesville, was arrested Wednesday and charged with ethnic intimidation and criminal mischief. Investigators say he has claimed past associations with white supremacy groups. He was also arrested last year and charged in connection to a stabbing, according to court records.

Rissell allegedly spray-painted Nazi symbols, including swastikas, and racist language in the West End neighborhood of Coatesville, as well as a few other locations leading into neighboring Valley Township, police Cpl. Shawn Dowds said Wednesday. The graffiti seemed targeted specifically to Jews and blacks.
The hate symbols also included references to other Neo-Nazi and white supremacist ideology, which has sprung up across the country in recent months. The vandalism also comes a little over a week after the violent racist protests in Charlottesville, Virginia.
Police have not yet revealed whether the Coatesville vandalism was inspired by Charlottesville.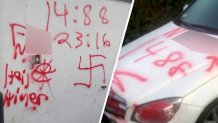 Police first responded about 7:45 a.m. Tuesday to a report of racist graffiti on a wall of the Valley Mart, a convenience store at Strode and Valley roads. As officers were at that location, Dowds said another officer found the luxury car tagged with the same racist messaging three blocks away on South Church Street.
Farther west in the 800 block of Madison Street, the vandal tagged a garage door with a large swastika and more racist symbols, Dowds said.
"The Anti-Defamation League called and said how it looks like someone who has been educated on this stuff," Dowds said of the symbols, which included numbers related to Neo-Nazi messaging.
President Trump Rally in Arizona Draws Fervent Supporters, Protesters
Investigators later released surveillance photos of a suspect in the vandalism. They said the photos helped lead to Rissell's arrest.

Rissell was arraigned Wednesday night and remanded to Chester County Prison in lieu of $150,000 cash bail.