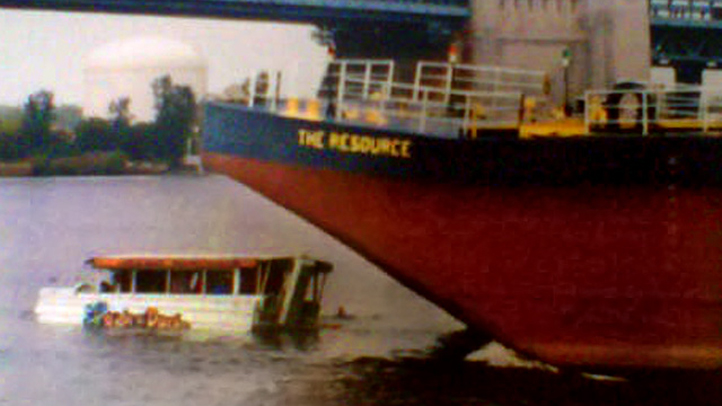 The tug boat pilot who was on his cell phone for a family emergency when the barge he was steering crashed into a stalled duck boat filled with tourists, pleaded guilty Monday to involuntary manslaughter.

Two Hungarian students who were on the duck boat were killed in the crash.
"I wish that I could take it all back," Matt Devlin said in court Monday. "I just wasn't thinking clearly after getting the news."
"The news" Devlin was referring to was that his 5-year-old son went eight minutes without oxygen during routine eye surgery that day, and the tug pilot was on his cell phone with family after learning the news.
Local
Breaking news and the stories that matter to your neighborhood.
The 35-year-old Devlin was charged with misconduct of a ship operator causing death, a maritime offense that authorities describe as the equivalent of involuntary manslaughter.

He faces 37 to 46 months in prison under federal sentencing guidelines.

In the hallway of the courthouse before the plea, an NBC10 producer witnessed a woman walk up to Devlin and identify herself as one of the duck boat accident victims.

"I'm very sorry," Devlin told the woman, and they both broke down in tears.

"How is your son doing?" the victim asked Devlin and his wife.

The crash occurred July 7, 2010, after the duck boat stalled in the busy shipping channel. As it sat anchored, awaiting help, the barge began bearing down, and its tug operator didn't respond to distress calls, authorities said.
In the minutes before the crash, Devlin repeatedly made and received calls on his cellphone, surfed the Internet for medical information and moved to a lower wheelhouse for more privacy -- putting the stalled duck boat in his blind spot, according to a report by the National Transportation Safety Board.

The crash sent all 37 people on the duck boat into the river, but 16-year-old Dora Schwendtner and 20-year-old Szabolcs Prem did not resurface. The Hungarians were visiting the United States through a church exchange program.

Devlin told the court that he is seeing a psychiatrist for post-traumatic stress disorder.

Sentencing is set for Nov. 1.
Copyright AP - Associated Press