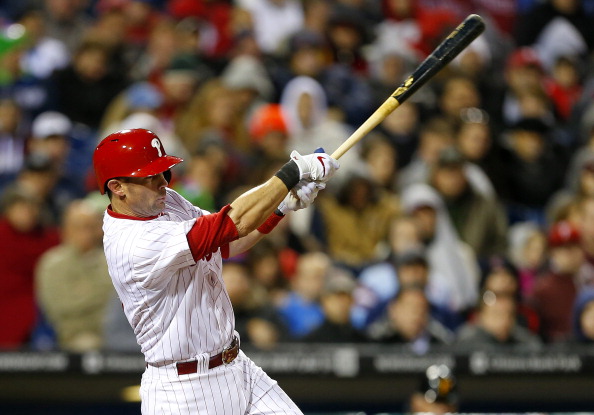 When the Phillies acquired Michael Young last December, they were pretty much trading for a stop-gap third baseman that proved to be better than most anyone else on the open market. It was a cost-saving move as much as a strategic one, because the free-agent market at the hot corner wasn't a great one, unless the Phillies wanted to take a flier on the likes of Mark Reynolds or Eric Chavez.

While the argument could have been made to promote Kevin Frandsen to a full-time player – more on that later – Ruben Amaro opted to trade a pair of pitchers for the 36-year-old Young, who had spent his entire career up to that point with the Texas Rangers, where he hit 177 home runs with a .301/.347/.444 line in 13 seasons.

With Young, the Phillies received a right-handed hitter who could play third base, and hopefully do more good than bad with his bat. It was a gamble, because Young was coming off the worst year of his career in 2012, where he had a .682 OPS and eight homers in 156 games. The gamble paid off for the Phillies, who saw Young hit .341 in his first 27 games. While he cooled off considerably in May, Young owns a .764 OPS and seven homers in 92 games this season. It's not a stat line from a third baseman, but he's been above average, even though he has hit into 17 double plays with the Phillies.

Given his rebound with the bat and the fact that the Phillies are far more likely to miss the playoffs than to make them, Young is an ideal candidate to get shipped out before the end of the month. Not only does he provide solid offense at third, but he is a free agent at the end of the season, meaning whichever team trades for him isn't going to be responsible for a ton of salary. Even if the Phillies didn't offer any cash in the deal, he'll be owed less than $3 million the rest of the way, thanks in part to the Rangers paying for $10 million of his $16 million salary in 2013.

As for the suitors, there are quite a few that could use a decent third basemen as they make a push towards the playoffs.

Los Angeles Dodgers (50-47, 2nd Place in NLW): Currently, third base is occupied by Juan Uribe and his .745 OPS. Young wouldn't be a huge upgrade, but they are flush with cash and eager to make a splash as they push for the playoffs.

Cleveland Indians (52-46, 2nd Place in ALC): The Tribe could certainly use Young's services, as third basemen Lonnie Chisenhall (.290 on-base percentage) and Mark Reynolds (.303 OBP) are doing more harm than good in the batter's box this season.

Los Angeles Angels of Anaheim (46-50, 3rd in NLW): While they have perhaps more pressing concerns than third base, like the performance of Albert Pujols and Josh Hamilton, they would no doubt like to upgrade from Alberto Callaspo, who is hitting .266 with five homers this season.

New York Yankees (52-46, 4th in ALE): It was only a week or so ago that the Yankees were rumored to have inquired about Young, and with Alex Rodriguez not returning any time soon (due to injury or a potential suspension), then New York could be an ideal landing spot for Young, who would be a tremendous upgrade over their current third basemen, be it David Adams (.536 OPS) or Jayson Nix (.554). And thanks to Mark Tiexeira being out for the season, Young could be a potential fit for first base, which is currently occupied by Lyle Overbay (.747 OPS).

Boston Red Sox (60-40, 1st in ALE): The Red Sox could be a fine suitor for Young, as Will Middlebrooks (.617 OPS) hasn't had a great season. While the young Jose Iglesias has equipped himself nicely at third, it's no secret that the Sox are looking for help at the position.

Like the market for second basemen, there is no shortage of potential suitors for Young, who is the most likely Phillie to be traded before the year is out.

In his place, the Phillies could do any number of things, first of which would be to make Kevin Frandsen their full-time third baseman. In 300 at-bats dating back to last season, the 31-year-old Frandsen has a .320/.381/.443 line, with five homers, 16 doubles, and three triples. He has a little bit of power, he can play defense, and he can get on base. Most importantly, he's cheap, and won't be a free agent until 2016. Conversely, they could dip into their farm system and give 23-year-old Cody Asche at shot. Asche, a left-handed hitter, is sporting a .283/.343/.442 line with ten homers at Triple-A Lehigh Valley, and he could potentially be auditioning for a starting job next season.

While there is about a week before the non-waiver trade deadline remaining, the Phillies shouldn't wait to decide if they are going to be buyers or sellers before moving Young, because the honest truth is that he potentially offers more value to the team in a trade this season, than he does on the field for the next two months.