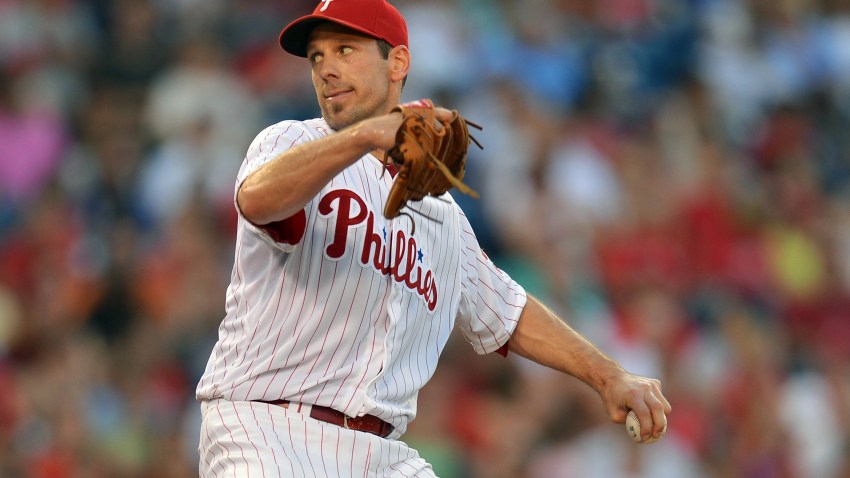 Since the middle of the Phillies eight-game losing streak, it was becoming more and more clear that Ruben Amaro was going to be forced to sell some key assets at the deadline. Despite his insistence that they were going to be buyers as they attempted to get back into the race in the National League east, all signs would indicate otherwise. It all came to a head on Sunday, when they lost their eighth straight game in embarrassing fashion to the Detroit Tigers, falling 11 games behind the division-leading Atlanta Braves.

And with little time left before the July 31 non-waiver trading deadline, it's not a matter of if, but of when the Phillies will start trading players and looking forward to 2014. While there have been rumblings of which players might be available since the beginning of the season, it was on Sunday that it was learned that Amaro has began to let teams know that the Phillies are open for business. But who is Amaro referring to?

Michael Young – Young, who is having a nice season as a stop-gap at third base for the Phils, is the most likely player to go, and for good reason. Not only is he having a bounce-back year at the dish, but he is a free agent at the end of the season, which means that the team who trades for him only needs to be concerned with his salary for the rest of the season. And with several teams in need of a third baseman, like the Boston Red Sox and the New York Yankees, it would make little sense for Young to be a Phillie past Wednesday.

Cliff Lee – Lee, who was acquired in 2009 from the Cleveland Indians before being shipped out to the Seattle Mariners in 2010, only to be re-signed by the Phillies in 2011, could once again be on the move. Despite two years and at least $50 million in salary left on his contract (plus a vesting option for 2016), Lee would, far and away, be the best pitcher on the open market if his contract expired at the end of the season. He's in the middle of a great season, and there are plenty of teams who could be in the market for a starting pitcher, chief among them the Boston Red Sox, who are thought to be kicking the tires on the veteran lefty. However, the price they'll have to pay is a steep one, because not only is Amaro looking to get top prospects in return, but salary relief. With the starting pitching market a thin one, Amaro could make a killing at the deadline if he chooses to move Lee.

Jonathan Papelbon – The closer, who made his feelings known about playing on a losing team on Sunday, is owed $26 million over the next two years, with a vesting option for 2016. Despite a somewhat rocky season, the right-hander could be well sought-out for teams in need of bullpen help. His salary could present an issue, as teams might not be that crazy about paying big money for a relief pitcher, but that doesn't mean that the Phillies couldn't get a nice return for the right-hander.

Carlos Ruiz – The catcher, who is having a rough go of it following a career year, is due to be a free agent at the end of the season. His defense and ability to handle a pitching staff does give him some value on the market, but according to reports, the Phillies might be hesitant to move Chooch, despite his free agent status at season's end.

Chase Utley – Utley, who might be the most valuable trade chip the Phillies have, is likely to stay put at the deadline, at least according to reports (and to Ruben Amaro himself). Even though he will be a free agent at the end of the season, the Phillies have been adamant about wanting to keep the second baseman past the season, and have been rumored to be engaging in talks about a possible contract extension.

With plenty of bodies that can be moved, there is a pretty good chance that the Phillies will make multiple moves before Wednesday's deadline. Like last season, a lot could happen in a relatively short amount of time, so don't be surprised if a trade is put together in a relatively short amount of time. Amaro knows that he has a small window in which to negotiate with other teams, and once the ball starts rolling, it's hard to stop. While no trades appear to be imminent, a lot can change in a day. Stick around for more trade deadline updates.