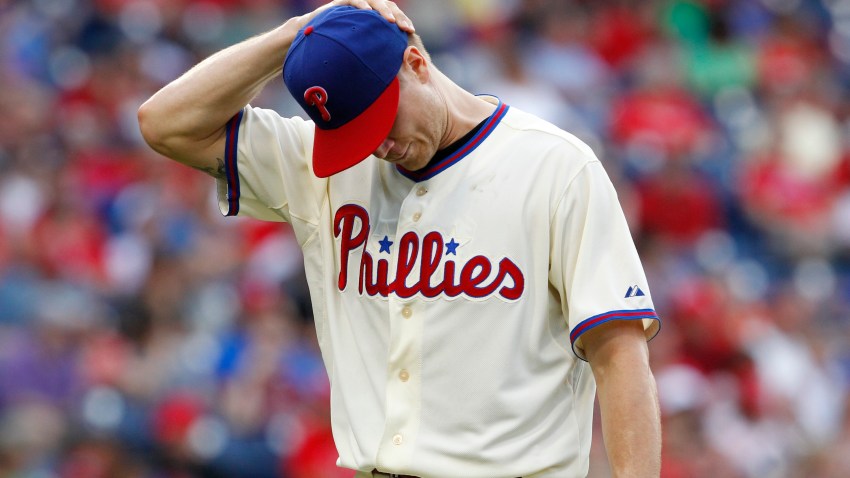 If you had to argue a week ago that Jonathan Papelbon was one of the elite closers in the game, opponents of that stance would be hard pressed to argue with you. Through June 14, he was a perfect 12-for-12 in save opportunities, with a tidy 1.46 ERA and 23 strikeouts in just over 24 innings of work. When games were close enough to necessitate the use of a closer, you can bet that Papelbon was going to show up, do his job, and do his job well.

Then, for some bizarre reason, Papelbon started blowing saves. That part isn't out of the ordinary, because even the best closers blow saves at some point during the season. Notwithstanding their talent or skill level, they are often walking a tight-rope, with almost zero margin of error, and sooner or later, they falter and blow a save. But that's not a big deal, because unless it happens in the playoffs, a blown save every now and again is par for the course.
So when Papelbon blew his first save last week, it wasn't worth getting too upset over. After all, he's going to get burned in a one-run save opportunity eventually, and the Phillies did end up coming back to win that game in the bottom of the frame, so no harm done. Then he blew another save two days later that would cost the Phillies a sweep of the Washington Nationals. It was three days before he saw action again, and he blew that save, this time to the New York Mets. And then he blew a save in San Diego on Monday night, turning what appeared to be another brilliant start by Cliff Lee into a tough loss in a season that's been full of tough losses.

In his last five appearances, Papelbon has blown four saves. He has an ERA of 5.40, and has allowed seven hits (two homers) in those five innings of work, where opposing hitters are teeing off to the tune of a .991 OPS. To put it mildly, it's been a bad week for the Phillies closer. But, should we be worried? Is he injured? Is the recent chatter about him possibly be traded affecting his composure?

I can't speak for his health, but as aggravating as his last few appearances have been, it doesn't appear anything to get worked up about. Observe, his last five appearances.

June 17, Washington Nationals – Papelbon entered the ninth inning with a one-run lead, and proceeded to set down the first two hitters on three pitches. Enter pinch hitter Chad Tracy, who entered the game with a .413 OPS and two home runs in 41 games this season. Despite being down 0-2, Tracy was able to stay alive long enough to muscle a pitch just over the wall in right field. It wasn't Papelbon's best pitch – it was a 93 MPH fastball that got too much of the inside part of the plate, especially with an 0-2 count – but it was far from a meatball that was begging to be hit out.

June 18, Washington Nationals – Papelbon enters the ninth with a two run lead, and allows a two-out single before nailing down the save.

June 19, Washington Nationals – Papelbon, working on his third straight day, enters the ninth with a two-run lead. He allows a leadoff infield single to Denard Span that would have resulted in an out had second baseman Freddy Galvis made a better throw to first, where Papelbon was covering. Following a flyball out and a strikeout, Papelbon walks the left-handed Adam LaRoche to face the right-handed Jayson Werth. Right on cue, Werth roped a hard-hit single through the left side of the infield to tie the game at twos. Papelbon struck out Ian Desmond on three pitches to end the inning.

June 20, New York Mets – Papelbon enters the ninth inning with a two-run lead, and gets a quick out before allowing a solo home run to make it a one run game. After David Wright reached on an error, Daniel Murphy stepped to the plate with two outs. With an 0-2 and Wright attempting to steal second base on the pitch, Murphy hit a grounder to shortstop (which was vacated due to Jimmy Rollins moving to cover second on Wright's steal) that allowed Wright to score on the play and tie the game. John Buck would ground out to end the inning.

June 24, San Diego Padres: Papelbon enters the game with a three-run lead, no outs, and runners on second and third. He allows a two-run single to centerfield to make it a one-run game. He would hit the next batter, and would induce a double play three pitches later, leaving a runner on third base with two away. That runner would score three pitches later, when Carlos Ruiz failed to corral a 2-0 pitch from Papelbon.

All told, the four blown saves had less to do with Papelbon turning into a pumpkin, and more to do with some lousy luck and baseball being the cruel mistress that she is. Had Freddy Galvis made a better throw in the final game against the Nationals, then it's one out and nobody on. Had Jimmy Rollins not moved to cover second base when David Wright attempted to steal second, then Daniel Murphy's RBI single is a harmless 6-3 putout. And had Carlos Ruiz not allowed that ball to get by him, then Cliff Lee is looking at his tenth win instead of a no-decision.

I'm not saying that Papelbon isn't responsible for the blown saves – because he is – but it's not as if he was giving up gopher balls every time he took the mound. It was a tough stretch, to be sure, but more than anything, I think we can chalk that up to a series of really unusual circumstances conspiring against the veteran reliever. They say context is everything, and that pertains to baseball as well. Had these four blown saves occurred separately over the course of the season instead of being bunched together, then we don't think anything of them. As it happened, he ran into a whole heap of bad luck all at once.

At any rate, all we can hope for is for Papelbon to get back on his horse and lock down his next save opportunity, like we've seen him do a number of times before.