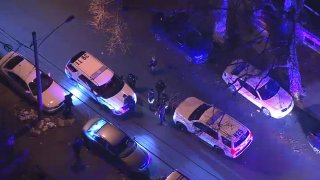 A teenager was shot by a police officer Friday night in North Philadelphia as cops searched for a robbery suspect in the area, authorities said.
The 17-year-old was taken to a nearby hospital and remained in critical but stable condition, police said.
The teen was being frisked by a police officer when he reached for a gun in his waistband, a police spokesman said. A scuffle began and led to one officer shooting the teen twice in the leg and once in the lower back.
Officers were scouring the area around 28th and Somerset streets searching for a gunman who robbed a woman shortly before 9 p.m., police said.
Police said the 17-year-old fit the description of the robber, but they later determined it was not him.
There are additional resources for people or communities that have endured gun violence. Further information can be found here.