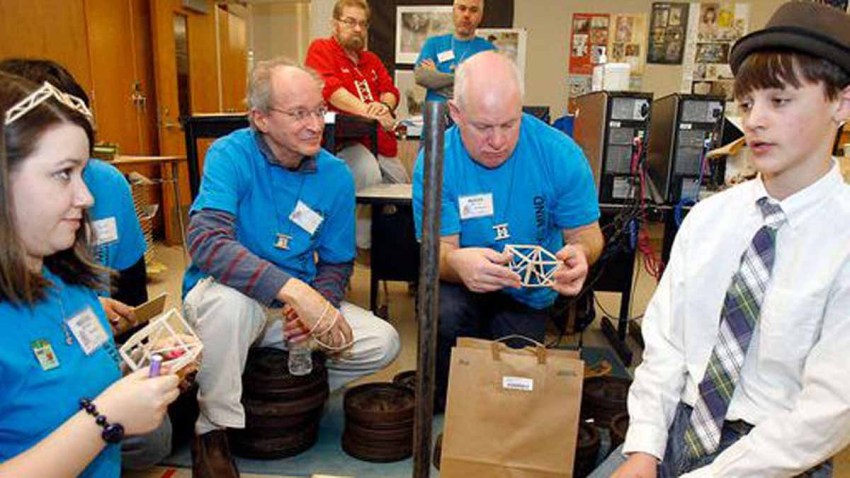 The sixth and seventh graders from Collingswood spent months building a vehicle that would move on its own during their eight minutes in the spotlight.
The seven children had just one problem with their "dream machine'' at Saturday's Odyssey of the Mind tournament in Haddonfield - its gear slipped off the track.
Their car would not move. But the children had prepared for such a scenario. "Pit crew!'' shouted one costumed team member. Another boy lifted a flap on the cardboard car covered in tinfoil. The skit continued.
Local
Breaking news and the stories that matter to your neighborhood.
At Odyssey of the Mind, issues such as malfunctioning gears are expected, and are even rewarded by the judges.
The educational program began in South Jersey in 1978. Sam Micklus, a professor at Glassboro State College - now Rowan University - wanted to introduce students to creative problem-solving.
"He challenged students to truly think outside the box,'' said Sarah Pankiewicz, director of the program's South Jersey region, told The Philadelphia Inquirer.
There are programs in most states and 25 countries.
In South Jersey, 77 teams of elementary, middle school, and high school students gathered Saturday at Haddonfield High School. They crowded hallways with sets, homemade devices, and costumes.
Each team spent months preparing to solve one problem that required both technical skills - such as building a car, designing a structure out of balsa wood that can hold weight, or creating sound effects - and performance skills.
Teams had budgets between $125 and $145 for their projects; recycling and creativity were encouraged. The Haddonfield High School team, for instance, found plastic pipes and cut them to different lengths to make drumsticks for their music-themed skit.
"We all go around and trash-pick. That's a big part of it,'' said sophomore Ari Liloia, whose team won its division.
Middle schoolers from Collingswood had a character in their dreamlike performance called a "marcornasus'' - part marlin, part unicorn, and part Pegasus, said Suzy Cook, who imagined the purple creature.
A group of eighth graders from Woodstown ate hundreds of Butterfinger candy bars to make a costume for a "finger'' character; their skit took place inside the human body.
The top three teams in each age group for each of the problems will advance to the state tournament in April to compete against teams from North Jersey. The best groups will then travel to the world finals at Iowa State University in May.
Collingswood had seven teams finish among the top three in the 15 divisions - the "dream machine'' middle schoolers won - and Woodstown had five.
In South Jersey, the program has been growing steadily for the last decade.
"I basically told my brother as soon as he got to third grade, 'You have to do (Odyssey of the Mind),'" said Liesl Hoeldtke, an eighth grader at Woodstown Middle School.
Copyright AP - Associated Press