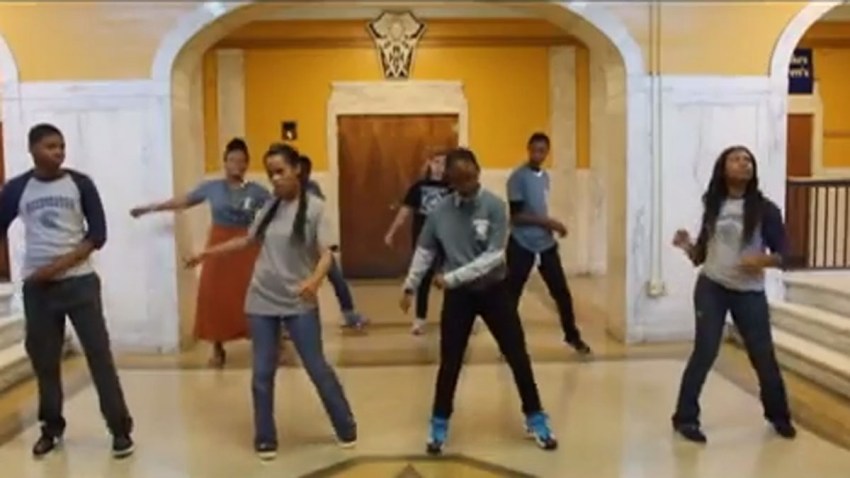 When pop superstar Katy Perry unleashed a contest looking for submissions of school spirit videos dubbed to her chart-topping single "Roar" last month, Roxborough High School cinematography teacher Derek Stevenson says he was instantly inspired.
"I thought it'd be a great project for our students to get involved in," Stevenson said.
His students however, weren't exactly sure they could create a video with winning potential.
Local
Breaking news and the stories that matter to your neighborhood.
"When I first introduced the idea of the contest, the kids were like, 'we're not gonna win; we don't have a chance, this is a national competition,'" he said. "Already they felt like they were defeated."
But it was the coach-like leadership of Stevenson and fellow teacher Deborah Bender that helped the students of Roxborough High realize their potential and learn just how much they had to roar about.
The "Roar with Katy Perry" contest asks high school students to submit two-minute videos demonstrating their interpretation of Katy Perry's song, Roar; which Stevenson says is a classic underdog tale, not unlike that of Philadelphia's iconic underdog, Rocky.
"The song is really pulling from the movie Rocky. It's the traditional underdog story; he came from nothing and yet he went on to do big things in the movie," he said. "I told my students, we are Rocky."
While some of the students were too young to know the tale of Rocky Balboa, Stevenson says after a strong pep talk during his cinematography class, he was able to convince the students to participate in the contest.
"I went into a coach mode and I told them, if you plan to lose, you will be defeated; but if you plan to win, success is gonna follow," he said. "A lot of them hadn't even seen the movie, but by the end of that 90-minute class they were inspired; they felt like, 'we can do this.'"
After some convincing from Stevenson, students participating in web design and cinematography classes in Roxborough High's communication and arts academy worked for six school days to create a video that would demonstrate some of the ways the Philadelphia School District funding crisis is effecting students.
The end result, the Roxborough High School Katy Perry Roar Lip Dub video, received more than 16,000 views in less than 10 days.
Deborah Bender, who teaches a web design course at Roxborough High, says once her students were inspired, they took full control of the project.
"The kids came up with the whole concept and everything you see in the video is student creativity. We just sort of guided the process and made sure they stayed on track with the deadline. Once it was done, I put it up on the Twitter page and the Facebook page and people began to pass it around. It just went viral from there," Bender said.
"I think they really wanted to say, in spite of everything that's going on with the School District, we're here and we're ready to learn; and I think that's a really great message to send."
As a lifelong resident of Philadelphia, Stevenson says he was impressed by his students' creation, which he hopes will shake up parents and residents who have become complacent with the schools district's shortfalls.
"It was so amazing to see the kids shift from feeling defeated to a 'we can do this' attitude. The dedication and the commitment they showed really made me proud," he said.
"For years, people in the Philadelphia School District have been uncomfortable and we've just been taking it, and kind of just going with the flow. But I think now, we're starting to speak up. We're roaring; we're not complaining, but we definitely want some change. These kids' lives and futures are at stake and I think this video is our kids saying, we've come this far and we're not gonna let this budget crisis stop us.'"
"Ultimately, I hope the video sends a message that our children are extremely perseverant. They will do whatever it takes. In the video they wanted to say, 'we're faced with this deficit, but it is what it is; we have overcrowded classes, we don't have guidance counselors, but we still have to come to school, we still have to get an education.' I think it's a very mature stance the students took."
According to the contest rules, one of five finalists will have the chance to win a live concert by Perry to be held at their school later this month.
While the school wasn't selected as one of the five finalists, Stevenson says he's encouraging his students to pay attention to what he calls the more important bright spot: they've already won.
"Despite not being acknowledged by Katy Perry, just the buzz and the amount of pride that this project has created; that's a huge win," he said.