NBC10's exclusive StormRanger10 mobile radar truck is a one-of-a-kind vehicle that has a live, high-powered Doppler Radar that enables StormRanger10 to get out ahead of a storm. StormRanger10 can track storms wherever they are with a higher degree of accuracy and with more detail than ever before.
From increased visibility in the heart of a storm to the ability to alert people in real time that a tornado has touched down because it can detect actual debris on the ground, StormRanger10 is the latest addition to NBC10's expanding weather arsenal designed to keep you and your family safe when severe weather strikes.
"This radar technology and mobile configuration is a first for any TV station or network of stations in the U.S," said Richard Stedronsky, a meteorologist and director of strategic business development and partnerships at Enterprise Electronics Corporation. "NBC-Telemundo is the first to deploy this fleet of mobile doppler radars in the nation."
"We are boosting our weather forecasting capabilities by building, from scratch, the first-of-its-kind fleet of mobile weather radars in the country because we know how important weather is to our viewers," said Valari Staab, President, NBCUniversal Owned Television Stations. "All of our stations will have access to this groundbreaking weather technology so they can deliver even more lifesaving weather information to their communities."
Glenn's Blog: Why StormRanger10 is so important »
So what makes StormRanger10 so unique in delivering you the most accurate forecast?
When severe weather approaches, NBC10 now has the ability to dispatch StormRanger10 to wherever the storm is going to strike. Using X-band, dual-polarization Doppler radar, StormRanger10 can provide our meteorologists with more detailed observations than any normal fixed radar can provide, giving them — and you — a hyperlocal look at the storm.
Local
Breaking news and the stories that matter to your neighborhood.
See StormRanger10 radar in action here »
"When you start to get over 100 miles away from the radar, the radar beam from a fixed radar is too high in the atmosphere to see lower weather phenomena," said Stedronsky, whose company provides the new radar system in StormRanger10. "But that's where severe weather takes place -- in the lowest parts of the atmosphere. With StormRanger, you can take your viewers to the weather and gather information that a traditional fixed radar could be missing."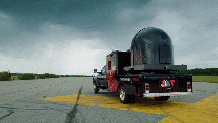 StormRanger10's radar, which has a maximum range of about 100 miles, will update about once every 60 seconds. These updates mean you'll be up-to-the-minute when tracking how and when the weather will impact you in your crucial locations such as your home and where you currently are. Our app users will receive push alerts when StormRanger10 is activated, allowing them to get a closer -- and more accurate -- look at the weather in their neighborhoods.
By driving StormRanger10 close to actual storms, NBC10 will be able to give a detailed look that TV stations never have been able to do before. Fixed radars may miss certain weather events due to terrain or blockages due to buildings in a downtown area. But StormRanger10 can fill in those gaps in coverage, and in turn provide a more complete picture of what is happening now and what those immediately in the crosshairs of a severe storm can expect.
Mobility is StormRanger10's big advantage over fixed radar during severe thunderstorms. By positioning StormRanger10 wherever severe storms are about to strike, meteorologists will get a better idea of how the storms are forming, how severe they are and where and how fast they're moving.
"This advanced look that you'll get from a StormRanger means you're giving more accurate and timely information to a viewer," Stedronsky said.
Get accurate 10-day and hourly forecasts here »
In addition to radar, StormRanger10 has two cameras to give you an up-close look at conditions - one on the dashboard, and one pointed at a reporter riding in the vehicle.
"The information you're going to get on a local level is going to be unprecedented," said Tom Jennings, president of Accelerated Media Technologies, which did the customization required to integrate the radar system into StormRanger10. "You're going to get such high-resolution weather telemetry out of these trucks that you'll know exactly what the weather's doing in your neighborhood, not just theoretically what it's doing across your state or county."
See how you can view StormRanger10 online »
Stedronsky says the key to it all is having full control of a mobile radar unit that can be sent to any storm, at any time.
"That's going to be huge for protecting people and assets and saving lives," Stedronsky said.
NBC10 is committed to bringing you the most accurate weather information possible, and StormRanger10 is just the latest investment we're making into weather-related technologies to do just that. StormRanger10 is here to serve your community, and ensure that NBC10 First Alert Weather is your most-trusted source when severe storms strike.