It's a birthday full of gratitude for a sheriff's officer injured when he was hit with a Molotov cocktail while serving a warrant in Collingdale.
Sgt. Nick Maraini, who turned 33 years old Thursday, was released from Crozer-Chester Medical Center Thursday afternoon. He's home nursing second-degree burns to his legs sustained when the crude incendiary device exploded on him.

Maraini was attempting to serve the warrant around 4:30 p.m. Wednesday at a home along S. MacDade Boulevard when a man threw the flaming bottle filled with gasoline out the front door, officials said.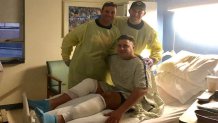 "How do you defend yourself when you have a bomb thrown at you? You can't. It's a weapon of mass destruction," Collingdale Police Chief Robert Adams said.

The suspect, identified by police as Jeromy Jones, was arrested after a brief standoff.
Jones was arraigned Thursday on multiple counts each of attempted murder, reckless endangerment, arson and aggravated assault. He was sent to jail on $1 million bail and will undergo a mental health evaluation.

A preliminary hearing in the case is scheduled for August 22.