An investigation is underway after a group of teen girls were caught on video attacking a woman on a SEPTA train Tuesday afternoon.
Police say the incident took place on a southbound Broad Street Line train between the Girard and City Hall stations around 3:30 p.m.
Megan Milligan, a Temple University student and Havertown native, told NBC10 she witnessed a group of about 10 teen girls bully a group of younger girls on the train. When Milligan stepped in to defend the younger girls, the older teens began attacking her.
"There were two girls who hit me in the face and at least three girls at the exit who hit me in the back of the head," Milligan said.
Around 20 passengers on the train watched as the group attacked her, according to Milligan. The girls then stole her iPhone 7 before getting off the train at City Hall.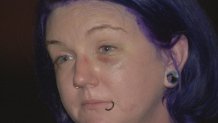 Despite the theft and the facial and head injuries she suffered, Milligan said she would still step in if she had to do it again. She just wishes others had done the same.
Local
Breaking news and the stories that matter to your neighborhood.
"It's not okay to let somebody stand by and be attacked and bullied," she said. "We're supposed to be the city of brotherly love but people are getting beat up on the streets and people are recording on cellphones. We really need to come together and stand up for people more."
Milligan also said however there was one woman who helped get her to safety following the attack and she hopes to reconnect with her in order to thank her.

SEPTA police told NBC10 they are working to identify several of the attackers and arrests are expected soon. If you have any information on the incident, please call SEPTA Police at 215-580-8111.