What to Know
A man was stabbed during a Thursday morning altercation on SEPTA's Broad Street Line concourse.
Charles Dallas D. Green faces murder and robbery charges.
The stabbing occurred the morning after SEPTA transit officers went on strike. Other officers are being tasked with patrolling stations.
The first morning commute with SEPTA transit officers on strike was marred by a deadly stabbing in the SEPTA underground system in Center City.
At least two men got into an altercation in the underground concourse at Broad and Spruce Streets, near the Walnut-Locust Station of the Broad Street Line, around 6:30 a.m. Thursday, SEPTA spokeswoman Heather Redfern and Philadelphia police said.
Charles Dallas D Green stabbed another man in the chest and then both men left the station, investigators said. Both men are believed to be homeless and knew each other.
Medics rushed the 30-year-old stabbing victim to Hahnemann University Hospital where he died about an hour later, police said.
The 50-year-old Green fled the concourse, police said.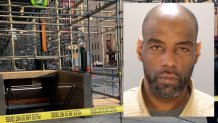 Blood could be seen on the sidewalk just outside the exit from the concourse. The incident was caught on surveillance video and lasted less than a minute, police said.
Local
Breaking news and the stories that matter to your neighborhood.
The incident came during the first morning commute since SEPTA transit officers walked off the job as contract negotiations stalled Wednesday. Both sides sat down Thursday night to negotiate but an agreement was not reached. Talks are set to resume Friday morning.
Andrew Busch, SEPTA's chief spokesman, says 49 police supervisors are working 12 hour shifts patrolling systemwide. Police in Philadelphia and other towns that SEPTA serves have also stepped up patrols, he added.
Broad Street Line service wasn't impacted but the Spruce Street exit to the concourse was blocked off with police tape as investigators searched for clues.
A SEPTA police supervisor helped arrest Green about an hour and a half after the stabbing, a source with knowledge of the investigation told NBC10. The arrest took place at a homeless shelter, Philly police said.
Fraternal Order of Transit Police — Lodge 109 vice president Troy Parham offered his prayers to the victim's family and said the incident highlights the need for more transit police staffing that is one of the core issues the union is fighting for.
"I think that it's very important that we are out there, and our supervisors are doing the best job that they can, but I think it's a situation similar to one we are in when we are at work, we are just understaffed, we are undermanned," Parham said. "We can't be everywhere at once. They are doing the best job they can."
A judge arraigned Green on murder, robbery and weapons charges early Friday morning. Green is being held without bail. Online court records don't list an attorney who could comment on Green's behalf.