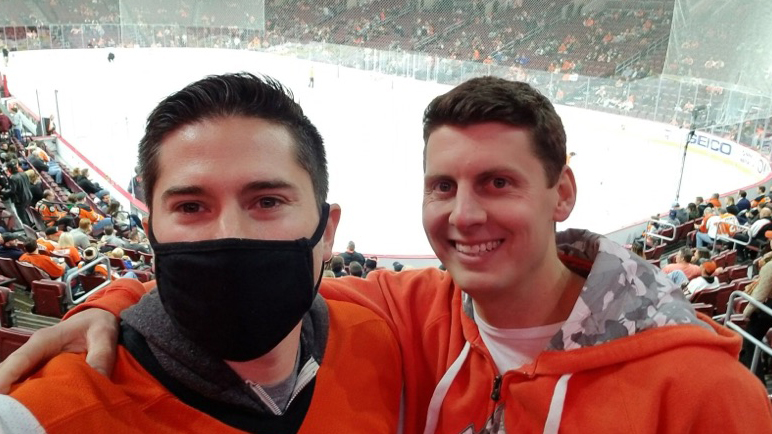 "Kayne of PA" had a heck of a night at the Philadelphia Flyers game Tuesday.
That's how the Flyers nicknamed Kayne Lermitte on the out-size check for $16,730 they presented to Lermitte after he won the 50/50 raffle held during home games at the Wells Fargo Center.
To the lifelong Bryn Athyn resident, the surprising cash windfall is the most recent sign of optimism after tough news he received last month.
Local
Breaking news and the stories that matter to your neighborhood.
On Sept. 29, the 33-year-old husband and father of three learned he has a rare form of leukemia.
"I work out a lot and play volleyball on a hard floor. I thought, 'Well, I'm getting bruised a lot,'" Lermitte said. "Then I went to the Eagles game last month and I threw the ball around maybe 30 times. My rotator cuff was hurting me the next day."
After a couple trips to doctors, he was diagnosed with the immunodeficient disease.
"I had a 2,000 (blood) platelet count. A healthy person has 150,000 to 400,000," he said.
Lermitte is a huge Philadelphia sports fan. Ironically, his form of leukemia involves what is known as the Philadelphia chromosome. (It was so-named because of research done by two local researchers.)
But Lermitte has vowed to stay optimistic through the treatment process ahead. And he pointed out his diagnosis coincides with winning ways by all of Philly's sports teams in the last several weeks.
And he's going to give back some of his winnings to the place where he has put much of his hopes: the Abramson Cancer Center of the University of Pennsylvania.
Before the winning numbers were announced Tuesday night, he and his friend Garrett Nash were laughing about holding the winning ticket.
"I was joking around with him and said, 'It's only 10 minutes until they announce us as the winners,'" Lermitte said. "When they announced 466605, it's how it is whenever they announce the winning ticket, 'Oh, I don't have that number.'"
And then he realized that, incredibly, he did. "There was no screaming or jumping up and down," he said. "Just shaking our heads."
9 Awesome Fall Festivals in Philly and the Suburbs This Month
For now, he said he's vibing off everyone's kindness. And he feels great, for now.
"I'm in the honeymoon phase of the treatment," Lermitte said. His treatment will eventually include chemotherapy commonly associated with cancer: hair loss and fatigue.
"I'm just trying to live it up however I can," he said, noting that going to Flyers games will not be part of the routine as he goes through treatment.
Lermitte is on leave from his work at a Bucks County technology consulting company. His doctors, he said, are encouraged by his reaction to treatment so far.
And his sister just found out she's a 10-out-of-10 bone marrow match. Lermitte will eventually need a marrow transplant.
"Winning the 50/50 was longer odds than that, but having a 10-out-of-10 match was even better news," he said.