Police arrested seven suspects possibly connected to a nationwide gang after they allegedly led officers on a wild chase across Route 202 and I-76 in Chester and Montgomery counties Tuesday.
The ordeal began around 1:30 p.m. when police responded to the Wendy's restaurant on the 100 block of W. Swedesford Road for a report of suspicious activity. A witness told police suspects were changing registration plates on two vehicles in the parking lot.
When police arrived they approached four people in a gray Dodge Journey SUV and three others in a black Chevrolet Suburban SUV, according to investigators. The driver and passengers inside the Suburban allegedly ignored the officers when they were told to stop and sped off. The fleeing vehicle struck an occupied and marked police vehicle and then continued on to East Swedesford Road, according to investigators.
The Suburban continued on and struck a second police cruiser on Swedesford and West Valley roads, police said. Police chased after the suspects who continued northbound on Route 202 and then eastbound on I-76, according to investigators. Police say heavy traffic at the Belmont exit forced the Suburban to stop as it struck a marked Pennsylvania State Police cruiser. Two of the suspects were then apprehended on the highway while the other two ran across all lanes and over the shoulder towards a wooded area in Gladwyne. One of the suspects allegedly tried to escape by jumping into the Schuylkill River. He and the other suspect were both apprehended however.
Police say the suspects had thrown out dozens of identity documents, including credit cards and driver's licenses over a chain link fence where the Suburban had stopped. Those items were later recovered by investigators however.
The driver of the Suburban, identified as 48-year-old Sherry Howard of Baltimore, Maryland, as well as the three passengers, Kennon Seymour, 18, of Fort Lauderdale, Florida, Jeremy Espenshade, 28, of Baltimore and Jerome Glinton of Fort Lauderdale, were all taken into custody. Glinton, who police say was the suspect who tried to escape in the river, was also taken by ambulance to Bryn Mawr Hospital for treatment before he was placed in custody.
Police say they also arrested three people who were initially in the Dodge Journey SUV at the Wendy's restaurant. Officers blocked the Dodge Journey from escaping and took three people into custody. Those suspects are identified as Heather Miller, 29, of Baltimore, Jeremy Evans, 40, also of Baltimore and Ashley Hamm, 22, of Fort Lauderdale. Police say they also found dozens of identity documents, including driver's licenses and checks not belonging to any of the suspects, inside the vehicle.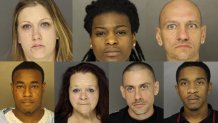 Investigators determined the suspects stole the identity items from child care centers and other locations. They also determined the thefts were connected to the Felony Lane Gang, a nationwide crime family known for stealing license plates, breaking into cars and stealing money from bank accounts.
Local
Breaking news and the stories that matter to your neighborhood.
The suspects will be charged with aggravated assault of a police officer, receiving stolen property, ID theft, fleeing or eluding police, access device theft and criminal conspiracy.
I-76 east at Belmont was shut down in the aftermath of the pursuit creating a massive backup on the highway. It was later reopened.